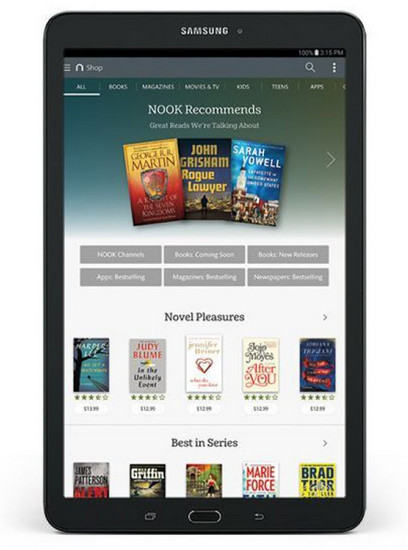 Last week Barnes and Noble added a new device to their lineup of Nook-branded Samsung tablets. It's called the Samsung Galaxy Tab E Nook.
It's a 9.6-inch Android tablet with a 1280 x 800 resolution screen (157 ppi). Basically it's B&N's answer to the Fire HD 10, and it sells for $249.
The interesting thing about the Galaxy Tab E Nook is that it's not just an exact copy of one of Samsung's other current tablets, unlike the previous co-branded Nooks.
At first glance, the Galaxy Tab E Nook appears similar to the Galaxy Tab A series, but the Nook version has a 9.6-inch screen instead of 9.7-inch, and the aspect ratio is different at 16:10 rather than 4:3.
Otherwise the specs are very similar between the two models, with a 5MP rear camera, 2MP front camera, up to 12 hour battery life, 1.2 GHz Qualcomm processor, 16GB of storage space, and support for 128 GB microSD cards.
The Galaxy Tab E Nook is a bit heftier than the Fire HD 10 despite the smaller size. It weighs in at 19.3 ounces, or 547 grams. The Fire HD 10 weighs 432 grams. But the Nook has the edge with Google Play support and up to 4 hours longer battery life.
One has to assume that the new Nook runs Android 5.0 Lollipop like Samsung's other new tablets because B&N doesn't specify that information anywhere. Apparently they don't think their customers are intelligent enough to question that kind of stuff.
The Galaxy Tab E Nook is the second new tablet that B&N has released in the past two months, along the much more expensive Galaxy Tab S2 Nook with it's 8-inch Super AMOLED display.