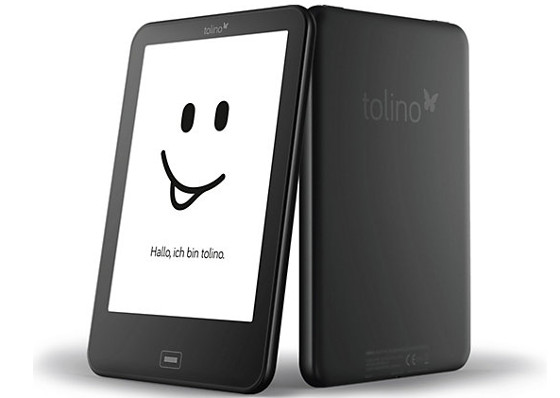 Tolino has two new ebook readers that are going to be released next week in Germany, the Tolino Shine 2 HD and the Tolino Vision 3 HD.
Both devices are very similar specs-wise, but the Tolino Vision 3 HD comes with some interesting upgrades, including a unique way to turn pages and a waterproof design.
Both devices have 6-inch E Ink Carta screens with 300 ppi, and both have 1 Ghz Freescale i.MX6 processors, with 512MB of RAM and 4GB of storage space.
They also have frontlights and WLAN, with support for over 500,000 Deutsche Telekom AG HotSpots. They support ePUB, PDF, and TXT formats, including ebooks with Adobe DRM.
Both have a 1500 mAh battery that is rated to last up to 7 weeks per charge.
The Tolino Shine 2 HD has an infrared touchscreen and the Tolino Vision 3 HD has a capacitive touchscreen.
The main difference between these two ereaders is the fact that the Tolino Vision 3 HD is waterproof, and it has a tap2flip feature that lets you turn pages by tapping the back of the device.
The waterproofing allows the device to be submerged in up to 1 meter of water for 30 minutes, the same as the Nook GlowLight Plus and Kobo Aura H2O. It seems that waterproofing is the next step in the evolution of ebook readers—will there be a waterproof Kindle next?
Both new Tolino ebook readers get released on October 26th. The Tolino Vision 3 HD sells for €159 and the Tolino Shine 2 HD costs €119.
Lesen.net, a German-based ereader website, has some early reviews posted. Here's a video review comparing the two new Tolino ebook readers.
Tolino Vision 3 HD vs Tolino Shine 2 HD