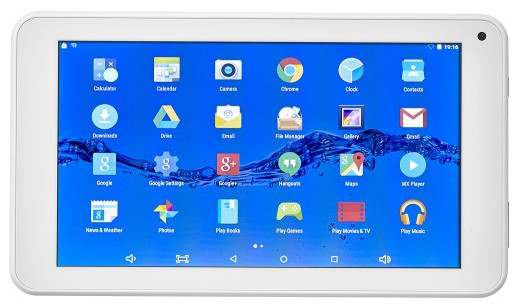 Amazon wasn't the first company to release a $49 tablet; they're just the first to get a lot of press about it. The DigiLand DL 7 has been on the market for a year and a half at $49, and now there's a new updated model at the same price to rival Amazon's tablet.
Best Buy has started carrying the new 7-inch DigiLand tablet, model DL718M.
It basically has the same exact specs as the $49 Fire tablet, and it does so with Google Play onboard and without lockscreen advertisements.
Last month I posted an article with 5 cheap Android tablets that could be suitable alternatives to Amazon's new $49 Fire tablet for those that want a more open operating system. Now's there's a sixth option to add to the list.
The DigiLand tablet is basically a copy of the $49 Fire. In fact both use the exact same quad-core MediaTek MT8127 processor with a max speed of 1.3GHz. Both come with 8GB of internal storage space, 1 GB of RAM, Bluetooth, and Wi-Fi. Both have a microSD card slot and both have front and rear cameras (0.3 MP and 2.0 MP). Overall dimensions are similar, although the Fire weighs about 1.5 ounces more.
Like the $49 Fire, the DigiLand tablet has a 7-inch IPS screen with a resolution of 1024 x 600. About the only difference is the DigiLand tablet says it has GPS.
The main difference is the software. Fire tablets use Amazon's custom interface. They don't support Google apps or Google Play (but it can be installed easily enough). The DigiLand tablet comes with Google apps preinstalled and it runs open Android 5.1 Lollipop.
It could be a suitable alternative for those that want a cheap $50 tablet without the limitations of Amazon's custom OS.
$49 DigiLand Tablet Specs
7″ IPS Display
1024 x 600 (171 ppi) resolution
Quad-core MediaTek MT8127 1.3 GHz processor
1 GB of RAM
8 GB Storage space
MicroSD card slot
0.3 MP front-facing camera; 2 MP rear-facing camera
Wi-Fi
Bluetooth
Speaker
Microphone
3.5 mm audio jack
Battery: 2100 mAh
Weight: 9.6 oz. (313 g)
Dimensions: 7.5" x 4.3" x 0.4"
Price: $49 at Best Buy