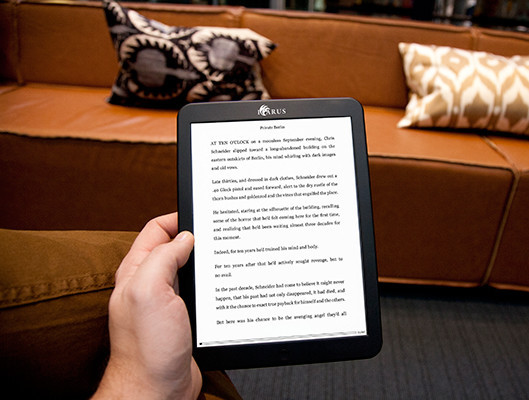 The Icarus Illumina XL is a new ebook reader that was first introduced back in October. It has an 8-inch screen (that's why it's called "XL") and it runs Android 4.2 and can install Android apps.
Icarus launched a crowdfunding campaign on Indiegogo to help fund the ereader, and to give people the option to get an early bird package for $169.
They missed their end of November targeted launch date, but the first units have started shipping so some could still arrive before Christmas.
The folks at Icarus uploaded a video demoing the new Illumina XL a couple of days ago (embedded below).
As suspected, the device is definitely being made by Boyue. The software looks almost identical to the Bouye T61, also known as the 6-inch Icarus Illumina that I reviewed last year. All the Boyue device have very similar software, just like the inkBook Obsidian that I posted a review of a couple days ago.
This is the first Boyue device with an 8-inch screen, however. All the others have 6-inch E Ink screens. The bigger size has some advantages; the only drawback is the resolution is lower than other ereaders at 1024 x 768, which equates to 160 ppi on the larger display.
Other features include a frontlight, WiFi, 8GB of internal storage space, there's a microSD card slot, and 3.5mm headphone jack, so it supports audio as well.
The Illumina XL sells for 199.95€ (165.25€ excluding tax) from the Icarus website.
Icarus Illumina XL Video