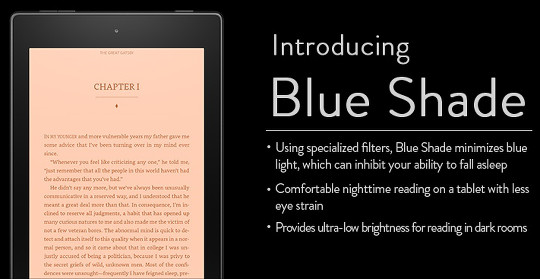 Last month Amazon released an update for the newer line of Fire tablets that run Fire OS 5 to add a new Blue Shade feature, among other things.
Blue Shade is intended to help improve nighttime reading on tablets by filtering blue light to help with sleep and lowering brightness levels for less eye strain.
Some studies have shown that exposure to blue light before bedtime can make it harder to fall asleep because blue light can inhibit melatonin production in the brain, which helps regulate healthy sleep patterns.
The effects of blue light and sleep haven't been proven yet, and I'm personally skeptical of most studies. Testing a dozen people for a few nights using an iPad at full brightness can be considered a "study" in this day and age. Then the press gets a hold of it and inexplicably treats it as facts worthy of reporting as if it applies to everyone everywhere.
The idea that staring into a bright light for an hour before bedtime is likely going to make it harder to fall asleep as fast just seems like common sense to me. Is it easier to fall asleep in a dark room or one with bright light streaming through?
This whole blue light thing has been blown out of proportion, in my opinion. It doesn't take a genius (or poorly executed studies) to figure out that light and sleep don't go together. And if melatonin suppression is a concern, melatonin supplements are rather inexpensive.
The biggest problem is most tablets' screens are way too bright at the lowest setting. I've always had to use screen filter apps on Android tablets and the super low brightness trick on iOS to tolerate using tablets once the sun goes down.
So for me, the Blue Shade feature on my Fire tablet never gets used. I don't like how everything gets colored in a red/orange hue, and it's hardly any different from using the sepia theme anyway. I still use the free Screen Filter app instead to dim the screen brightness below the lowest setting; it's not perfect but it works without changing the color of everything.
Another popular option is the Twilight app, which is similar to Blue Shade but there are a lot more settings and configurations. It's worth checking out too.
Lots of people prefer to use the black background and white text option for night reading. What about you? Do you like using the new Blue Shade feature on Fire tablets? Has using it made it easier to fall asleep?