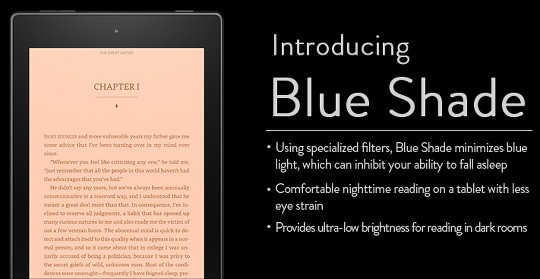 Amazon has released a new software update for their 5th gen Fire tablets, including the $50 entry-level Fire, the Fire HD 8 and Fire HD 10. The Fire HD 6 should be getting the update as well.
It doesn't look like any of the previous Fire Tablets will be getting updated to Fire OS 5, based on Amazon's Fire Tablet Comparison chart for app developers. The Fire HD 6 is the only older device that shows it getting the Fire OS 5 update.
The new software version is 5.1.1. It adds some new features, most notably Amazon's new Blue Shade feature that filters blue light for improved night reading. Plus some enhancements for kids have been added.
Yesterday Amazon announced the release of the Fire HD 8 Reader's Edition tablet, and with it they were highlighting the new Blue Shade feature for optimizing night reading, but now all 2015 Fire tablets have that feature too (I'll post a review of it later in the week).
Like always, the update will download and install automatically when connected to Wi-Fi. Generally you can download the update and sideload it as well from the Software Updates section at Amazon, but they still haven't added this 5.1.1 update as of this writing.
The update has already installed on my Fire tablet. One good thing to note is that Google apps and the Google Play Store still work fine; the update doesn't seem to being causing any issues with that, so installing the Play Store should still work just as easily as before.
Here's a summary of the changes with the new software:
Blue Shade: The Blue Shade feature blocks blue light and lets you adjust the color and brightness of the screen. Turn on and off by using the quick settings menu.
Amazon FreeTime Web Browser: A web browser built from the ground up to give kids a personalized and age-appropriate web browsing experience. The browser limits access to only pre-approved websites and web videos. The FreeTime web browser is turned off by default; enable it under web settings located in FreeTime settings.
Activity Center: Provides an easy way for parents to spy monitor how kids are spending their time using the Fire tablet, including how much time they spend playing games and what websites they visit.
Set a Curfew: From the parental controls menu, you can now schedule times when kids can use their Fire tablet. This is a separate feature from Amazon FreeTime, and is for older kids that don't use that.