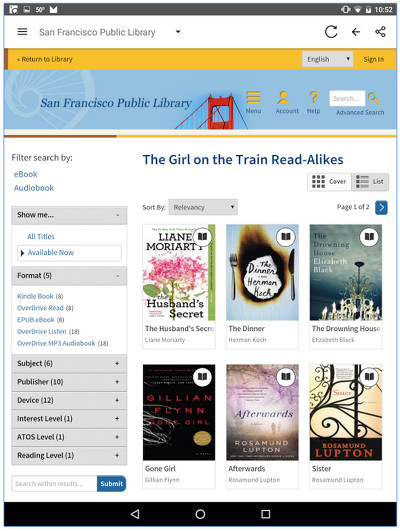 One great thing about ebooks is that fact that many public libraries around the world support ebook lending for free. All you need is an internet connection, a library card, a device to read on, and some time to read.
Downloads through OverDrive's library lending service increased by 24% in 2015. They set a new record of 169 million digital downloads, with over 125 million ebooks borrowed and 43 million audiobooks lent.
OverDrive is the leading library lending service. There are others too, like 3M and Odilo, so those numbers only account for OverDrive's share of the overall library lending market.
Here's an article that explains how to get free ebooks from libraries using OverDrive if you haven't tried library lending before.
Last week OverDrive posted a list of their top 5 ebooks and audiobooks borrowed from libraries in 2015.
Top eBooks borrowed from libraries
1. The Girl on the Train by Paula Hawkins (Penguin Publishing Group)
2. All the Light We Cannot See by Anthony Doerr (Scribner)
3. Gone Girl by Gillian Flynn (Crown/Archetype)
4. The Martian by Andy Weir (Crown/Archetype)
5. Go Set a Watchman by Harper Lee (HarperCollins)
Top digital audiobooks borrowed from libraries
1. The Girl on the Train by Paula Hawkins (Books on Tape)
2. All the Light We Cannot See by Anthony Doerr (Simon & Schuster Audio)
3. Gone Girl by Gillian Flynn (Penguin Random House Audio Publishing Group)
4. Harry Potter and the Sorcerer's Stone by J.K. Rowling (Pottermore)
5. Yes Please by Amy Poehler (HarperCollins)