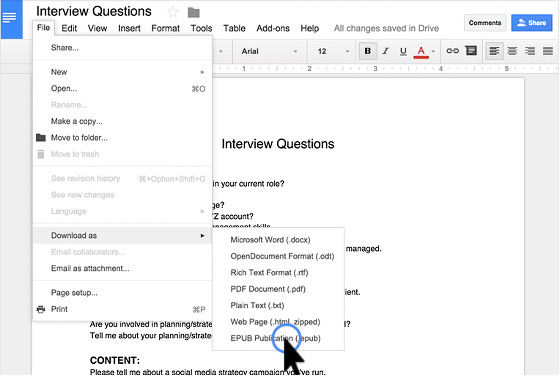 Google added a new feature to Google Docs this past week that gives users the option to export their document files as ebooks in ePub format.
Aside from Amazon and the Kindle, just about every ebook reader app and reading device supports ePub format.
EPub has some obvious advantages over ebooks in PDF and other formats, like supporting variable formatting instead of a fixed layout, so it's good to see Google add this option.
It certainly makes things a bit easier for authors, publishers, and educators to create books and guides with a minimum of steps that can easily be read digitally from most devices anywhere at anytime.
How to Create ePub eBooks from Google Docs
The process is so simple that you may find it more convenient than using a third-party program like Calibre for converting.
To create ePub ebooks from Google Docs simply go to the File menu > Download as > ePub Publication (.epub). Done.
You can use Google Docs to write documents or upload your existing files to your Google Drive and then export them to ePub from there. Google Docs supports a number of formats, including HTML, RTF, Word, Open Office, PDF, and regular text files.
Google's generated ePub files can then be read on wide number of devices and apps. Pretty much all reading apps and devices support ePub format so their are plenty of options for reading. The only ereader that doesn't support ePub is the Kindle (note that Fire tablets do support ePub via numerous apps) and that can be remedied easily enough by using Calibre to convert ePub to Mobi or AZW to read on a Kindle.
Another option is you can then upload the ePub file to your Google account so that you can access it anywhere from the Google Play Books app or directly from a web browser.
via: Google Apps Updates