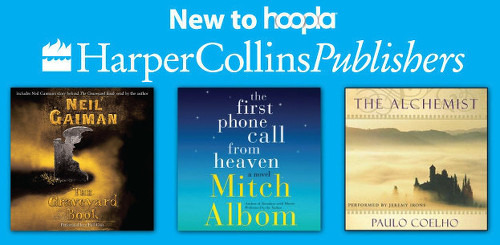 Last month Hoopla Digital expanded their catalog of ebooks and audiobooks that are available for free through public libraries by signing a deal with Open Road Integrated Media.
Now Hoopla has announced a new agreement with HarperCollins Publishers to add their full backlist of audiobooks to Hoolpa's catalog.
Among the new titles includes bestsellers like the Divergent Trilogy by Veronica Roth, The Chronicles of Narnia series by C.S. Lewis, To Kill a Mockingbird by Harper Lee, The Graveyard Book by Neil Gaiman, The Alchemist by Paulo Coelho, and The First Phone Call From Heaven by Mitch Albom.
Hoolpa's service is kind of like Netflix for libraries, and it's similar to how OverDrive works for borrowing free ebooks and audiobooks from libraries.
Hoolpa offers library patrons access to over 450,000 movies, music, ebooks, audiobooks, TV shows and comics.
All you need is a library card to get access to all the goods for free. Hoopla works with over 950 libraries in North America. You can search for supported libraries from this Hoopla register page.
One cool thing with Hoopla is there are no holds or waits so you can get access to their content immediately.
Hoopla has apps for iOS and Android to use with smartphones and tablets. Content can also be accessed from a web browser, an Apple TV, and via Chromecast.