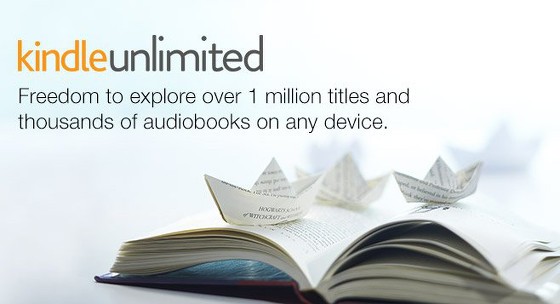 Amazon's ebook subscription services, Kindle Unlimited, costs $9.99 per month to get access to a library of all-you-can-read ebooks. The service also provides access to audiobooks at no extra cost, and you can listen to as many of them as you want each month as well.
However, the Big 5 publishers have shown no interest in participating in Kindle Unlimited, even though they offer some ebooks and audiobooks to other subscription services such as Scribd.
Still, there isn't a shortage of titles. The number of ebooks available through Kindle Unlimited has more than doubled since it first launched in July 2014, with the current selection including more than 1.2 million ebooks.
You just won't find many of the most popular and best-selling books and authors in the Kindle Unlimited library. So is spending $9.99 a month to subscribe really worth it?
It depends entirely on the number of books you read each month, and the type of books you read.
It also depends on how much you value "owning" an audiobook or ebook versus losing access to the books/audiobooks once you cancel Kindle Unlimited.
If you only read one or two ebooks a month, or listen to one or maybe two audiobooks, then you're probably better off just buying them instead of subscribing to Kindle Unlimited.
Since big publishers aren't involved, the prices of ebooks available through Kindle Unlimited are on the lower end of the scale, usually $1-5, so you could easily buy 2 or 3 each month and still spend the same or less than subscribing to Kindle Unlimited.
There's no question that audiobooks add a lot of value to the $9.99 per month plan if you like listening to them. One audiobook can sell for the subscription rate alone or more.
However, Amazon sells audiobooks at a considerable discount if you buy the ebook first. You can often get audiobooks for the same titles available through Kindle Unlimited for $1.99 with the purchase of the ebook, so if you like using Whispersync for Voice to sync Kindle books and Audible audiobooks it's a pretty affordable option.
The number of audiobooks currently available in Kindle Unlimted is unclear. Amazon's dedicated landing page for Books with Narration in Kindle Unlimited only lists 2,924 audio titles, but the main Kindle Unlimited pages lists over 10,000 Whispersync for Voice audio titles available in KU, which makes more sense than the first number.
Amazon never releases any kind of sales figures, but Kindle Unlimited seems to be doing pretty well even without big publishers. They've more than doubled the catalog in less than two years, and they've expanded the service internationally to the UK, Germany, France, Italy, Spain, India, Brazil, Mexico and Canada. Only a few countries have access to audiobooks, however.
So what do you think? Is spending $9.99 per month to get ebooks and audiobooks through Kindle Unlimited really worth it?