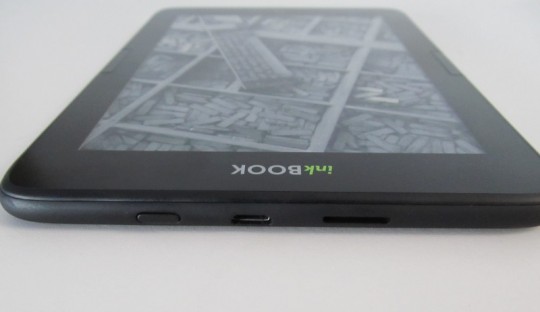 In the midst of a new Kindle announcement, the Android-powered inkBook Obsidian and inkBook 8 have both turned up for sale on Amazon from Arta Tech.
It's good to have plenty of options, and both inkBooks are priced lower than I would have expected. I'm not sure if it's just an introductory price or what but it's good for competition either way.
The inkBook Obsidian is selling for $99 and the inkBook 8 is selling for $170, both with free shipping.
The inkBook Obsidian is a 6-inch ebook reader with a flat glass screen, page turn buttons, a frontlight, WiFi, 8GB of storage, and a microSD card slot for expansion.
Check out my inkBook Obsidian review for more details on the features and specs.
The inkBook 8 has an 8-inch 1024 x 768 screen, but it's not flush glass like the Obsidian model, and it lacks the page buttons. Otherwise both models are essentially the same aside from the size difference. It also has 8GB of internal storage, a microSD card slot, a capacitive touchscreen, WiFi, and a dual-core 1GHz processor with 512MB of RAM.
One key difference with the inkBook 8 is the addition of audio support via a 3.5mm headphone jack. Here's a post that outlines the rest of the specs for the inkBook 8.
Both ereaders run Android 4.2 and can install a variety of Android apps. They don't come with Google Play installed—there's a different appstore onboard—but there's probably a way to add it once rooted for those with some technical skills.