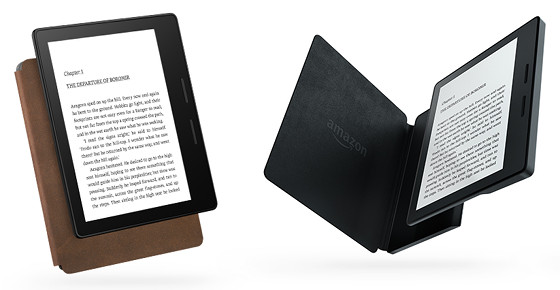 I think most people are a bit shocked by the price of the new Kindle Oasis that Amazon unveiled this morning.
Starting at $289 for the Wi-Fi model and $359 for the 3G model, it's a lot more than most people were expecting considering the fact the Oasis has the same E Ink screen as the Kindle Paperwhite 3 that frequently goes on sale for $99.
The high price of the Kindle Oasis all comes down to the snazzy leather charging cover that for some odd reason is mandatory to purchase.
Amazon places a premium price on their Kindle covers and they always have. The regular leather cover for the Voyage sells for $60 and the premium cover sells for $85.
Considering that, it's not much of a stretch to assume about one third of the overall price for the Kindle Oasis is for the cover alone. Adding 12 magnets, an internal battery, and charging components certainly has to account for at least $90 of the overall cost.
The most puzzling aspect of forcing people to buy the cover is the fact that almost every single picture at Amazon shows people using the Kindle Oasis without the cover!
It's an odd marketing strategy for Amazon not to sell the Kindle Oasis without a cover for $199, the same price as the Voyage. They'd certainly sell a lot more of them. But then again Amazon has so little competition in the ereader space they can do pretty much whatever they want.