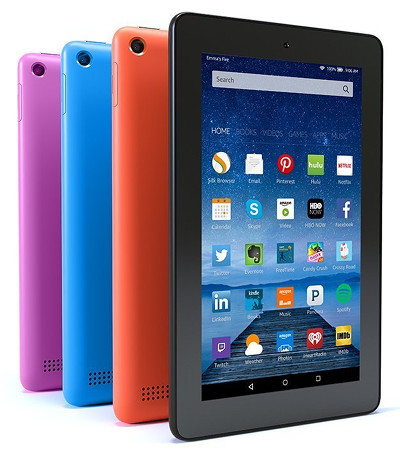 Yesterday Amazon officially announced the release of new color options available on the $49 Fire tablet.
Previously it was only available in black; now they've added blue, magenta, and tangerine color choices. It's nice to have some different colors available, especially for kids.
Amazon also officially announced the release of the 16GB version of the Fire tablet for $69.
We already knew about that since Amazon started advertising it on their website a couple weeks ago. I guess they were just waiting on the different colors to show up before making the announcement official.
It looks like they've settled on the $69 price for the 16GB model. For the first few days the price fluctuated from $59 to $69 so apparently enough people were willing to pay more.
Amazon also issued another software update for the Fire tablet this week. The new software version is 5.1.2.1.
The release notes just say that the software update includes "general improvements and performance enhancements". It also mentions adding support for moving audiobooks to the microSD card but that was added with the first 5.1.2 update that was issued last month.
The $49 Fire Tablet is one of the least-expensive tablets on the market. It has a 7-inch screen with a resolution of 1024 x 600. It runs Amazon's custom version of Android and it's powered by a quad-core 1.3 GHz MediaTek processor with 1GB of RAM and 8GB/16GB of storage space. Check out my Fire tablet review for more details about Amazon's entry-level tablet.