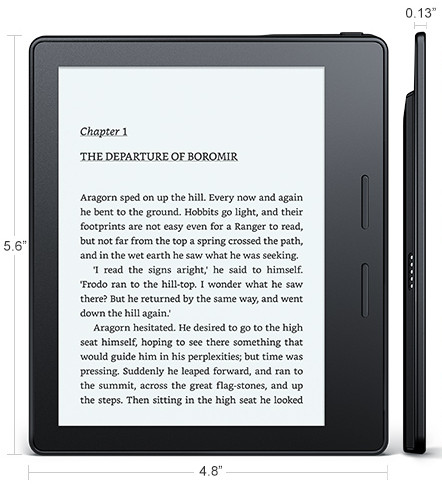 When the Kindle Oasis was first announced, all the talk was about the new tapered design and the included leather charging cover. But the number one thing that caught my attention was the return of the page buttons.
I've always really liked having dedicated page buttons on ereaders. Being able to rest a thumb on a button and just having to press down is a lot more convenient than having to move your thumb to swipe the screen and readjust your grip with every page turn.
A few years back all ebook readers had page buttons. Then touchscreens started becoming popular and physical buttons started become expendable.
Some manufactures like Sony continued to keep page buttons around even with the addition of a touchscreen, but the likes of Amazon and Kobo started getting rid of buttons altogether.
The original Kobo and Kobo WiFi had page buttons because they didn't have a touchscreen, but ever since then every single Kobo ereader has lacked page buttons. The original Kobo Touch was the only one with a dedicated button and that was a home button. Hopefully Kobo's next ebook reader will bring back page buttons.
It wasn't too long ago that we had a Kindle with page buttons, but it was the basic entry-level model and it lacked a touchscreen and a frontlight.
The Kindle Oasis is the first Kindle to have the combination of page buttons and a frontlight and a touchscreen. The Kindle Voyage has sensors instead of buttons but I couldn't get used to how they felt and worked—real buttons are much better and more functional.
Touchscreens work great for on-screen selections, adding notes, looking up words, etc. But when it comes to turning pages, nothing beats a good old fashioned page turn button.