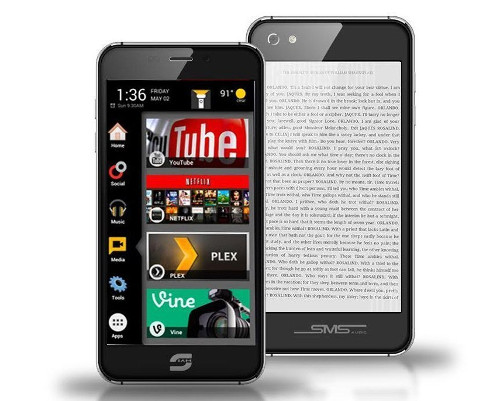 The other day I came across a new dual screen phone over at Amazon that has been out for a few months called the Siam 7X.
A few dual screen smartphones and phone cases with E Ink screens have started coming out over the past couple of years. The Yotaphone has become one of the more popular options—they're now working on their 3rd generation model.
The Siam 7X has a 5-inch IPS screen on the front and a 4.7-inch E Ink display on the back, both with touch support.
The LCD screen has a resolution of 1280 x 720 (294 ppi) and the E Ink screen has a resolution of 960 x 540 (235 ppi).
The Siam 7X also has dual sim card slots, so this phone is all about doubling up on features (maybe they should have called it the Siam 2X).
It runs Android 5.1 Lollipop and is powered by a Qualcomm 64-bit quad-core processor with 16GB of internal memory and 2 GB of RAM.
Other features include a microSD card slot for cards up to 64GB, it has a 2100mAh battery, a 3.5mm headphone jack, Bluetooth, GPS, an IR remote and FM radio. It has a 16.0MP rear camera with auto focus and LED flash and an 8.0MP front camera.
Below is a quick video from Siam showing how the E Ink screen works (the volume is super low so you really have to crank it up to hear).
Siam 7x E Ink Display Demo