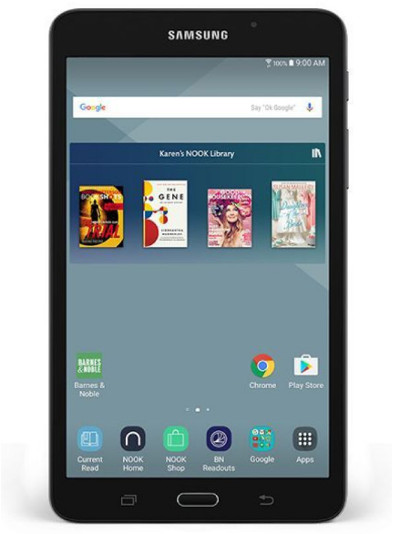 Kobo wasn't the only company to announce the release of new ereaders yesterday, B&N also announced the release of a new Nook.
Except this is Barnes and Noble that we're talking about so it's a Nook in name only, and it's not exactly new since it has been on the market for over 4 months.
The new Nook is in fact another rebranded Samsung Galaxy tablet, the 7-inch Galaxy Tab A to be precise.
I reviewed the 7-inch Galaxy Tab A back in April and it's a really nice tablet for the price.
The problem, however, is that B&N is currently charging $20 more for it than it's selling for on Amazon right now.
They're going to have a hard time selling them at that price considering the "Galaxy Tab A for Nook" is the exact same tablet as the regular Galaxy Tab A, just with extra B&N apps installed on it that can be downloaded for free from Google Play anyway.
Typical B&N. But it's not all bad. They do have an offer where you can get the the new Nook Galaxy Tab for $99 if you trade in an older Nook or if you show proof of a past Nook purchase.
That second stipulation is quite interesting but of course they don't give any explanation about it anywhere that I can find. Here's the quote from the press release:
Existing NOOK customers can upgrade to the newest NOOK by Samsung device at an even greater value, for only $99.99, by trading in or showing proof of purchase of any NOOK device at any Barnes & Noble store.
Unfortunately they don't elaborate any more than that. There's a link about the $99 deal on the Samsung Galaxy Tab A Nook product page at B&N but clicking it just reloads the page instead of giving any information about it. Whatever…
Additionally, B&N members can get a free cover as part of the deal (a $39.95 value).
So what it comes down to is B&N is rewarding previous and loyal customers by giving discounts, which is nice, but they are doing absolutely nothing to gain new customers. In fact they're making them pay $20 more than buying the exact same device somewhere else. Odd strategy…