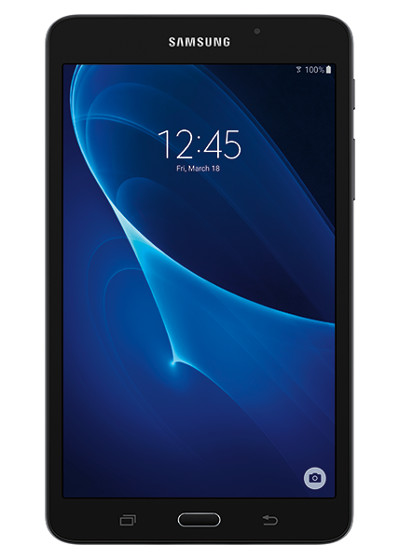 Review Date: April 2016 – Review unit purchased from
Amazon
Overview
Samsung officially started selling the 7-inch Galaxy Tab A, model number SM-T280, in the US in April 2016 right after they released the Galaxy Tab E Lite, which is similar but with lesser specs and a lower price.
The 7-inch Galaxy Tab A is the successor to the popular 7-inch Galaxy Tab 4. Both have nearly identical specs but the Tab A has slightly better cameras and it supports higher capacity microSD cards, but it lacks the IR blaster (remote control) feature found on the Tab 4.
The Galaxy Tab A has a retail price of $149. Currently it's only available in an 8GB model but it wouldn't be surprising to see Samsung rollout higher capacity versions at some point like they did with previous models.
However, if Samsung decides to update the 7-inch Galaxy Tab A to Android 6.0 Marshmallow there wouldn't be much need for higher capacity models because one of the features with Android 6.0 is the ability to set the external microSD card as the internal card, and the Galaxy Tab A supports cards up to 200GB.
Hardware
The Samsung Galaxy Tab A is the anomaly in the Tab A line. It doesn't have the same processor, the same screen ratio, or the same general specs as the larger Tab A models. I think Samsung is running out of names to call all their different tablets so they're like let's just throw the A on there and call it a day.
Calling it the Galaxy Tab 4 2 doesn't look quite work but that's the most accurate way to refer to it since it is so similar to the Galaxy Tab 4. The Tab 4 turned out to be super popular over the past couple years so it's easy to see why Samsung would want to try and recreate that success with a newer version.
The overall build quality of the Tab A is solid, as you'd expect from a Samsung tablet. The side bezels are quite narrow so it's smaller than most 7-inch tablets, and it's slim and light so it's comfortable to hold.
The screen resolution is 1280 x 800, which on a 7-inch tablet equates to about 216 ppi. The resolution isn't as high as some other tablets but the screen looks really nice regardless and is a good comprise for increased battery life and performance. Colors are bright and viewing angles are good without degrading the colors too much, unlike the cheaper Tab E Lite.
One thing I really like about the screen is the wide range of brightness settings. The lowest level is great for night reading; it's much dimmer than most Android tablets. Plus there's a reading mode that subtly warms the color temperature of the display. There's also an outdoor mode with increased brightness.
I also like how Samsung's tablets have dedicated buttons for home, back and recent apps because it frees up extra space on the screen without having a menu bar at the bottom all the time.
The specs on the Galaxy Tab A are pretty standard for a budget tablet. It does have nicer cameras, longer battery life, and it supports higher capacity microSD cards than most cheap models, however.
Under the hood there's a quad-core 1.3 GHz processor with 1.5GB of RAM, 8GB of storage space, Bluetooth, WiFi, and GPS. It has a mic, a 3.5mm headphone jack, a 2MP front camera, a 5MP rear camera, and it supports microSD cards up to 200GB. There's one speaker on the back with medium loudness. There's a bump from where the camera sticks out so it keeps the speaker from being muffled when setting the tablet down flat. Battery life is quite good for a budget tablet with up to 11 hours per charge.
Software
The Samsung Galaxy Tab A runs Android 5.1.1 Lollipop. I was expecting it to be a lot different than Android 4.4 on the Tab E Lite and Tab 4, at least visually, but there's really not much difference at all. The homescreen and app drawer are slightly different and so is the settings menu, but the overall features between the software are like 95% the same.
I thought that at least screen mirroring would be available on 5.1 like it is on my Lenovo Tab 2 10 (a really nice budget tablet if you want a 10-inch screen), but sadly that's not the case, so like the Tab 4 there is no way to connect the Tab A to a TV. I guess Samsung only enables that feature on their more expensive tablets and phones.
The Galaxy Tab A comes with the usual set of Google apps preloaded, including the Google Play Store. Samsung also has their own appstore onboard with a few exclusive apps, such as customer assistance apps, Kids apps, and some games and utilities as well. There's also an office app for working with office files, a radio app for listening to local radio stations, a CNN app loaded with current news videos, Samsung Milk Music for streaming free music, and some others.
The software has the usual Samsung TouchWiz tweaks so there are some added features like ultra power saver mode and multi-window view that lets you have two apps open in the same window at the same time (doesn't work with all apps though).
Overall the software runs well. Everything from scrolling to video games and HD videos play smoothly without a glitch. A lot of people were complaining about the 5.1 update causing issues on other Samsung devices but I've experienced zero problems with it on the Tab A so far.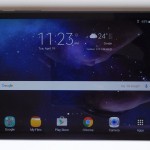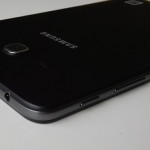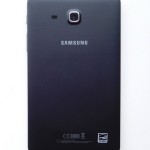 Galaxy Tab A Review Conclusion
Pros
Strong construction in a small streamlined form.
Long battery life.
The operating system runs well.
Nice screen with good viewing angles, bright colors, clear text and it has a wide range of brightness settings, from super dim to blinding bright, plus reading mode and outdoor mode.
Cons
Low amount of internal storage space, only about 4.7GB usable.
No HDMI port or screen mirroring feature to connect to a TV.
Not much different than the Galaxy Tab 4, practically the same tablet (more like Tab 4a).
Verdict
The Galaxy Tab A has a good combination of specs and build quality for the price. While the Tab 4 was a bit overpriced at $199, the Tab A is more wallet-friendly at $149. Plus Samsung tablets are always going on sale so once it starts dropping to $129 and less it will be hard to beat, especially since it's a big step up in overall quality from the $49 Fire and generic budget tablets.
The biggest negative with the Tab A is the limited internal storage space. Not everything can be saved to an external card so it could become a problem at some point. Plus it's so similar to the Tab 4 that there isn't anything that makes it stand out as being better. If you can find a new 7-inch Tab 4 on clearance for cheaper there's little reason to get a Tab A instead. Whatever happened to newer tablets being notably better than the models they replace?
Samsung Galaxy Tab A Video Review
Samsung Galaxy Tab E Lite Review »
Galaxy Tab A vs Galaxy Tab E Lite Comparison »
Galaxy Tab A Specs
7 inch, 1280 x 800 pixel display (216 ppi)
1.3 GHz quad-core processor (SC8830 and Mali-400 MP GPU)
Android 5.1.1 Lollipop operating system
1.5GB RAM
8GB internal storage
MicroSD card slot for cards up to 200GB
2MP front camera
5MP rear camera
Wi-Fi 802.11 a/b/g
Wi-Fi Direct
Use two applications at once
with Samsung's multi-window feature
Multi-user mode, including kids mode
Bluetooth 4.0
GPS, Glonass
Micro USB port
Speaker, 3.5mm headphone jack, mic
4,000 mAh battery
Battery life: up to 11 hours
Dimensions: 7.35″ x 4.27″ x 0.34"
Weight: 9.8 ounces (277 grams)
Price: $149 at Amazon