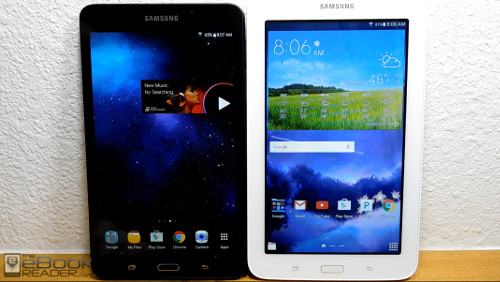 Samsung has released two new 7-inch tablets for 2016, the Galaxy Tab E Lite and the Galaxy Tab A. They have a lot things in common but there are some significant differences between them as well, both of which I'll outline in this comparison review.
But first let's start with some background info on both models. The Tab E Lite replaces the Tab 3 Lite, and the Tab A is the newer version of the Tab 4. The Tab A and Tab 4 are very similar but the Tab A has better cameras and supports higher capacity microSD cards, and it lacks the IR blaster and silver frame found on the Tab 4.
The retail price of the Tab 3 Lite and the Tab A are very close at $119 and $149 respectively, but Samsung often runs sales so the prices fluctuate a lot.
For only $30 more it seems like a no-brainer to go with the Galaxy Tab A for the better hardware and newer software, but again a lot comes down to price. The Tab 3 is likely to hover under $100 most of the time so that makes the price difference more significant.
Check out my dedicated Galaxy Tab E Lite review and Galaxy Tab A review for more details about each and to watch video walkthroughs.
Similar Features – Tab E Lite vs Tab A
Both have 7-inch screens (but with different resolutions).
They both have 8GB of internal storage.
Both feature the same quad-core 1.3GHz processor (SC8830 and Mali-400 MP GPU).
MicroSD card slot.
Wi-Fi.
Wi-Fi Direct support.
Bluetooth 4.0.
GPS.
3.5 mm stereo jack.
Micro USB port.
Single speaker, with similar sound.
Similar design, same button and port placement.
Samsung's TouchWiz software extras (though slightly different between models).
Both are available in black and white.
Galaxy Tab E Lite Differences
Display: 1024 x 600 resolution (171 ppi); 16:9 ratio.
Android 4.4.4 KitKat operating system.
Supports microSD cards up to 32GB.
Battery: up to 9 hours; 3,600mAh.
RAM: 1GB.
No front camera.
2MP rear camera.
Dimensions: 7.61″ x 4.58″ x 0.38″.
Weight: 308 grams.
Get a free ebook per month via exclusive Kindle for Samsung app (oddly not available on the Tab A, just the regular Kindle app).
MSRP: $119 at Amazon
Galaxy Tab A Differences
Display: 1280 x 800 resolution (216 ppi); 16:10 ratio.
Android 5.1.1 Lollipop operating system.
Supports microSD cards up to 200GB.
Battery: up to 11 hours; 4,000mAh.
RAM: 1.5GB.
2MP front camera.
5MP rear camera.
Dimensions: 7.35″ x 4.27″ x 0.34".
Weight: 277 grams.
The Tab A's screen has better viewing angles, better clarity, better color, and a wider range of brightness settings, including an outdoor mode and a reading mode.
Higher resolution screen supports HD videos.
Multi-window mode has the added feature of dragging images and text from window to window.
Comes with a Radio app that can pickup local stations without using an internet connection (requires plugging in headphones for an antenna).
MSRP: $149 at Amazon
Video: Galaxy Tab A vs Galaxy Tab E Lite