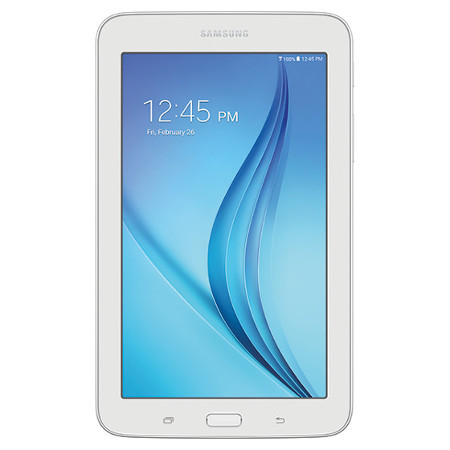 Review Date: April 2016 – Review unit purchased from
Amazon
Overview
Samsung first introduced their Tab E line in 2015 with the release of 8-inch and 9.7-inch models. Then in March 2016 they added the 7-inch Galaxy Tab E Lite to the list, model number SM-T113.
It's a bit odd that they opted to drop this new model into the "E" series since it doesn't have similar specs or even the same software as the larger-sized versions.
The E Lite is more of a replacement for the Tab 3 Lite than it is an addition to the "E" model lineup. In fact it looks just like the Tab 3, and the specs are very similar.
There's also the Galaxy Tab A, another new 7-inch Samsung tablet. It has a number of upgrades over the Tab E Lite and it retails for $30 more.
Hardware
The Samsung Galaxy Tab E Lite is at the bottom of Samsung's tablet hierarchy in terms of specs, but it's also at the bottom in terms of price. It's not surprising to see Samsung wanting to get in on the lower end of the market as well, especially with the success of Amazon's Fire tablets.
You can find generic brands of Android tablets for as low $50, sometimes even $40 new. The problem with most of them, however, is they are pieces of junk with weak batteries and poor build quality.
When you get a Samsung device you expect a certain level of quality, and the Tab E Lite doesn't disappoint in that respect. It's priced at the higher end of the scale for a low-end budget tablet, but at least it doesn't feel or look like a cheap plastic toy and you know you're getting a better quality product with software that's more developed than what's on the generic gear.
The Tab E Lite isn't quite as nice as the Galaxy Tab A or Tab 4 in terms of the design and the feel of the build quality. It's very similar to those two but it's not quite as classy and it's a bit larger.
The biggest difference between the Tab E Lite and the more expensive models is the screen. It has a 7-inch 1024 x 600 resolution screen and the other two 7-inch models have 1280 x 800 resolution screens.
The Tab E Lite's display has a good amount of brightness and color, but when comparing it to better screens the colors appear more washed out and the viewing angles are rather poor. Colors like orange have especially poor viewing angles, with lots of color shift at different angles. Still, the screen is better than most other budget tablets. But the quality of the screen is one of the most important things to consider when getting a tablet, so for that reason alone it's worth considering spending a little more for something with a better display.
Like other Samsung devices, the Tab E has the usual physical home button and two sensors for back and recent apps. All have secondary functions for long press as well. Having dedicated buttons frees up additional screen real estate, which is nice. It almost makes it seem like the screen size is a step up because it adds an extra 1/4" to 3/8" of screen space without having an onscreen menu bar for navigation.
As for specs, the Galaxy Tab E Lite has a quad-core 1.3 GHz processor with 1GB of RAM, enough to keep things running smoothly. It has a 2MP rear camera that's just okay as far as quality of shots, Bluetooth, WiFi, GPS, WiFi Direct, microphone, 8GB of internal storage space, a 3.5mm headphone jack, and there's a microSD card slot for cards up to 32GB.
It has one speaker on the back with medium loudness and okay quality. The camera sticks out a bit so it keeps the speaker from being muffled when setting the tablet down flat. Battery life is one of the best for budget tablets at up to 9 hours per charge.
Software
Using the software on the Galaxy Tab E Lite invokes a flashback of my Galaxy Tab 4 review from 2 years ago. The software is a lot like the Tab 4's used to be before it got updated to Android 5.1. There are a few minor differences but it's mostly the same customized version of Android 4.4.4 KitKat that was available on earlier models.
The plus side with using older software is that it is well-developed considering that Samsung has been using it for a few years now. The OS runs smoothly and battery life is surprisingly good for a lower end budget tablet
The Galaxy Tab E Lite comes preloaded with the usual suite of Google apps including the Google Play Store. There's also access to Samsung's own appstore, which contains some exclusive apps, such as the Kindle for Samsung app that grants users one free ebook per month from a selection of four.
Some of the pre-installed apps include a memo app that works with regular typing as well as voice typing, there's Hancom Office Viewer for working with office documents and PDFs, a Samsung Kids app with educational games and books, there's a Samsung CNN app with lots of news videos, Samsung Milk Music for streaming free tunes, and more.
Like you would expect from a Samsung device it doesn't run straight Android 4.4. It has Samsung's customized TouchWiz tweaks, so the menus and homescreen look a bit different from standard Android, among other things.
Samsung adds some extra features to the software like their ultra power saver mode and the unique multi-window mode that lets you have two apps open in the same window. One odd thing about the dual app feature on the Tab E Lite, however, is the fact that there's no option to drag images and text between windows like on the Galaxy Tab A and the Tab 4.
Samsung also lets users customize the layout of the quick settings menu, which is nice because you don't have to open up the settings menu and you can put the stuff you use most at the front of the list for easy access.
The camera app has some extra features too that aren't found on other tablets like the $49 Fire, for example. There's a timer, some different modes, filters and settings, and the option to take panorama shots and continuous shots.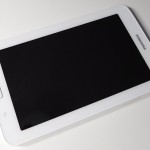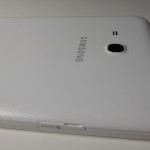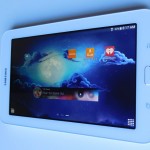 Galaxy Tab E Lite Review Conclusion
Pros
Nice build quality; it doesn't feel like a cheap tablet.
Good battery life, especially for a budget tablet.
The operating system is older but at least it runs smoothly and it incorporates Samsung's added features like multi-window mode and ultra power saving mode.
Cons
The screen is low resolution and has poor viewing angles; the 7-inch Tab 4 and Tab A both have better displays.
No HDMI port or screen mirroring to connect to a TV.
No front camera.
Older software—most Samsung devices run Android 5.0 and up but the Tab E Lite runs Android 4.4 KitKat.
More expensive than tablets with similar specs, such as the $49 Fire (see comparison review).
Verdict
The retail price for the Samsung Galaxy Tab E Lite is $119, but it's already been on sale for $99. It's the lowest priced Samsung tablet to get released yet, but what's nice about it is that it doesn't feel cheap.
The main thing holding back the Tab E Lite is the combination of the low resolution screen and the overall price when considering that tablets with nearly identical specs sell for half as much.
Overall the 7-inch Galaxy Tab E Lite is a nice tablet with good build quality, especially for a budget tablet, but in all honesty you'd be better off considering spending a little more on something like the Galaxy Tab A to get a better screen, better hardware, and a newer operating system. But if you don't mind having a lower resolution screen then the Tab E Lite is a good way to get a good entry-level Samsung tablet for cheap, especially when it goes on sale.
Samsung Galaxy Tab E Lite Video Review
Samsung Galaxy Tab A Review »
Galaxy Tab A vs Galaxy Tab E Lite Comparison »
Galaxy Tab E Lite Specs
7 inch, 1024 x 600 pixel display (171 ppi)
1.3 GHz quad-core processor (SC8830 and Mali-400 MP GPU)
Android 4.4.4 KitKat operating system
1GB RAM
8GB internal storage
MicroSD card slot for cards up to 32GB
No front camera
2MP rear camera
Wi-Fi 802.11 a/b/g
Wi-Fi Direct
Use two applications at once
with Samsung's multi-window feature
Multi-user mode, including kids mode
Bluetooth 4.0
GPS
Micro USB port
Speaker, 3.5mm headphone jack, mic
3,600 mAh battery
Battery life: up to 9 hours
Dimensions: 7.61″ x 4.58″ x 0.38″
Weight: 10.9 ounces (308 grams)
Price: $119 at Amazon