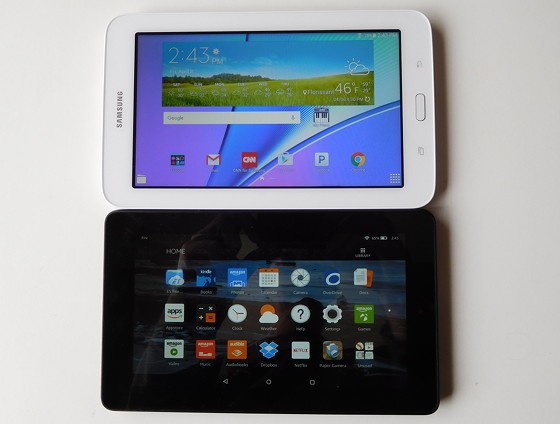 Samsung released a new 7-inch Galaxy Tab E Lite a couple weeks ago. Initially it was priced at $119 but it's already on sale for $99, which makes it the lowest priced Samsung tablet ever.
It's still not nearly as cheap as Amazon's 2015 Fire tablet, however. At $49.99 the entry-level Fire sells for half that, but to be fair it has ads at that price so a more comparable price is $64.99 for the non-ad version (there's also a 16GB model available now for $59.99; $74.99 without ads).
The Galaxy Tab E Lite is very similar to the Fire tablet in terms of hardware. Both are almost the exact same size, both have similar screens and their overall specs are practically identical.
Like usual, the biggest difference between these two tablet brands comes down to the software.
The Galaxy Tab E Lite runs open Android 4.4 KitKat and includes all the usual Google apps and features out-of-the-box, and comes with Samsung's added software features like multi-window mode, whereas Fire tablets run Amazon's customized Android software that has more limitations, although it's a lot better and more open than it used to be.
Check out my $49 Fire tablet review and Galaxy Tab E Lite review for more details about each device and to watch video walkthroughs.
There's also the new 7-inch Galaxy Tab A that replaced the Tab 4. It has a number of upgrades over the Tab E Lite and it's only like $30 more. I'll be posting a review and comparison of it next week as well.
Similar Features – Tab E Lite & $49 Fire
Both have 7-inch 1024 x 600 resolution screens (171 ppi).
They both have 8GB of internal storage, although the Fire has the option for 16GB.
Both feature quad-core 1.3GHz processors.
1GB of RAM.
MicroSD card slot.
Both offer monthly subscription content designed for kids—Amazon FreeTime Unlimited and Samsung Kids—along with parental control features to regulate tablet usage, limit app accessibility, monitor progress, etc.
Both are also available as Kids bundle packages with bumper cases: Samsung Galaxy Tab E Lite Kids and Fire Kids Edition.
Wi-Fi.
Bluetooth.
Both support multiple user profiles.
2 MP rear-facing camera.
3.5 mm stereo jack.
Single speaker.
Both are basically the exact same size, give or take a millimeter.
Similar weight, just a few grams difference.
Fire Tablet Advantages
Lower price, costs about half as much.
Higher capacity microSD cards supported (up to 128GB vs 32GB for the Tab E Lite).
The screen has wider viewing angles and colors appear a bit darker and more colorful (IPS display vs TFT).
Optional 16GB model for $69.
VGA front-facing camera (no front camera on the Galaxy Tab E Lite).
Kindle Lending Library: Can borrow one ebook for free each month (requires Amazon Prime membership).
More closely tied to Amazon's ecosystem and apps.
Second Screen (only for casting Amazon's videos/TV).
The Fire's reading app offers a couple extra features that aren't found on the Samsung Kindle Android app, including text-to-speech and Word Wise (a learning tool that gives hints for difficult words).
It's fairly easy to install the Google Play Store onto the newer Fire tablets, so that's not as big of an advantage for Samsung as it used to be.
Samsung Galaxy Tab E Lite Advantages
Better build quality, doesn't feel like a budget tablet.
Bigger battery, 2 hours estimated longer life: Li-Ion 3,600mAh for Tab E and 2,980mAh for Fire.
The display is a bit clearer and brighter and there's a wider range of brightness settings so you can set it super low for night reading.
There's no onscreen menu bar since it has dedicated buttons so the viewing area is larger—makes a big difference, almost seems like the screen is a size larger.
Buttons: as mentioned above, there's no navigation menu like with most Android devices because Samsung adds separate buttons for these. The home button is a physical button and the back and recent buttons are sensors, and all three have dual functions for long press and short press.
The speaker sounds clearer and it doesn't get muffled when setting the tablet down flat.
Android 4.4.4 KitKat is more open and advanced, so it has more features like a fully customizable homescreen with support for widgets, you can change system font type, there are more camera modes and settings, it has voice search and speech-to-text (voice typing), etc.
Comes with Google apps and Play Store onboard, which has thousands of more apps available than Amazon's appstore, and they get updated more frequently.
Can install Amazon's Underground app to get access to the same apps and content available on Fire tablets.
The capacitive touchscreen supports 10-points touch to the Fire's 5.
GPS support.
Wi-Fi Direct.
1 year warranty vs Fire tablet's 90-day warranty.
Option for white color.
Run two applications at once side-by-side with Samsung's multitasking feature (only works with some apps).
No sponsored screensavers and advertisements (costs $15 extra to remove them on Fire tablets).
Samsung Book Deals for free ebook per month via exclusive Kindle for Samsung app.
Video: Fire Tablet vs Galaxy Tab E Lite