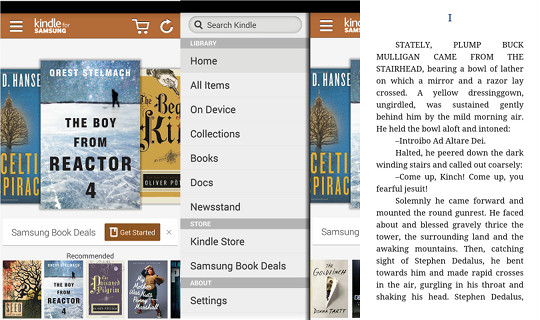 A few weeks ago Amazon and Samsung announced a new partnership to offer an exclusive Kindle ebook app for Samsung tablets and phones. The new app is called Kindle for Samsung, and it's available only in the Samsung app store.
Samsung also just released a new line of Galaxy tablets, the Tab4 series, the beginning of May. I picked up a 7-inch Galaxy Tab4 to review, which I'll post soon, but first I wanted to put together a quick review of the Kindle for Samsung app.
Oddly the app did not come pre-loaded on the Tab4, but it was easy enough to find in the Samsung app store.
The Kindle for Samsung app is almost exactly the same as the regular Kindle for Android app, but the weird thing about it is that it's based on an older version, 4.3 instead of the newer 4.4. Even though the co-branded app was just released, it doesn't contain features the Android app received a couple of updates ago.
The main difference is the Kindle for Samsung app currently lacks the new font choices available on the regular Android app, and it doesn't have the improved table of contents support or auto brightness either.
But all the other main Kindle features are included in the Samsung app. The usual three margin and line spacing options are available, so are different themes to change text and background color, it has bookmarks, highlights, notes, dictionary lookup, and search. Words and phrases can be referenced on Wikipedia and the web. The volume buttons can be used to turn pages.
Like with the Android app, advanced Kindle features like text-to-speech, Goodreads integration, and X-Ray are not present.
There's really only one reason to use the Kindle for Samsung app instead of the regular Kindle app: to get access to Samsung Book Deals. This gives you the option to download one free ebook per month from a predetermined selection of four ebooks.
The free ebook per month is only available from the Samsung app, but once you get the ebook you can read it on any Kindle device or app. So if you'd rather have the font choices you can just read it on the regular Kindle for Android app, which also install and works fine alongside the Samsung version.
Kindle for Samsung eBook App Review