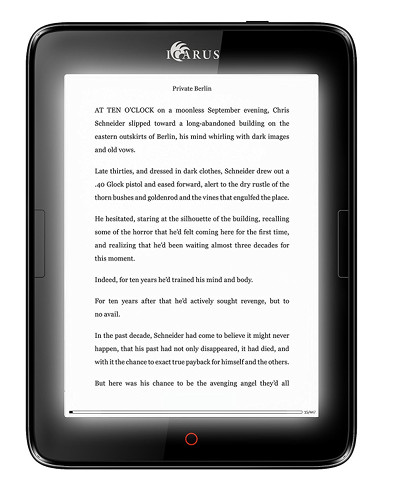 Back in October Icarus announced that they would be releasing a new 6-inch ebook reader with a flush glass screen and open Android 4.2.
The device is called the Icarus Illumina, like all of their ereaders (sort of like how new Kindles are always called Kindle too so the different models get confusing after awhile).
This one's model number is E654BK.
They have the new Icarus Illumina listed on Amazon for $119 plus $8 for shipping.
That's not a bad price if not for the fact that the inkBook Obsidian sells for $105 with free shipping and it's essentially the exact same device.
Both are Boyue models with different brand names on the front, but the hardware appears identical.
Like the sister models, the Icarus Illumina has a 6-inch E Ink Carta screen with 212 ppi and a flush glass screen with a frontlight. It has page buttons on each side of the screen, a microSD card slot, 8GB of internal storage space, Wi-Fi, and it supports ePub, PDF, and several other formats via apps.
One difference is they say the Icarus Illumina comes with the Google Play Store preloaded, whereas the inkBook just comes with a generic app store and has to have the Play Store added manually.
I reviewed the InkBook Obsidian last December and it's a nice ereader for the price, given the limitations and advantages of having an Android operating system, so it's not a stretch to assume it's the same story with the new Icarus Illumina as well since they both have the same hardware and software.