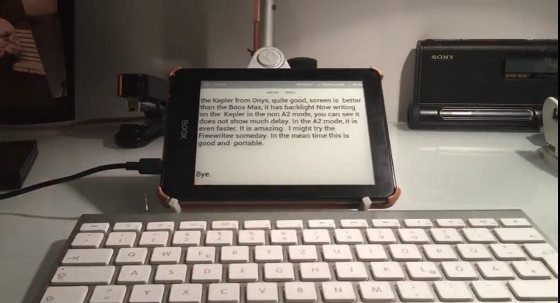 I came across a YouTube video that was recently uploaded showing one of the advantages of having an Android-powered ebook reader with Bluetooth.
The video demonstrates using a text editor app and a Bluetooth keyboard to type documents on an Onyx Boox Kepler Pro, a new 6-inch ereader from Onyx.
Using an E Ink device as an alternative word processor isn't new by any means, but the problem is most ereaders don't have the capability of connecting an external keyboard.
Doing so usually requires some serious hacking, as least when it comes to the likes of Kindles and Nooks.
Even a lot of Android ereaders don't have any easy way to connect a keyboard. Many of them lack Bluetooth support or even OTG for connecting a keyboard via USB.
The larger Onyx ereaders like the N96 and Onyx Boox Max support Bluetooth, but a lot of the smaller models do not.
The Kepler Pro is one of the few 6-inch models that has Bluetooth, along with the new InkBook Prime.
Typing works surprisingly well on the E Ink screen and there's not much of a delay at all. Take a look…
Bluetooth Keyboard and Kepler eReader