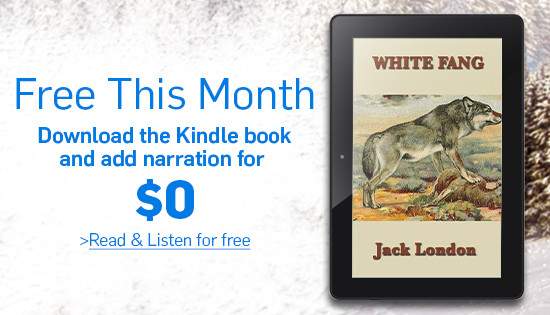 Amazon and Audible have updated their free classic ebook and audiobook combination for the month of January.
This time around the free audiobook is White Fang by Jack London.
To get the free audiobook just make sure to check the box below the buy button when getting the free Kindle ebook to automatically have the audiobook added to your Audible account for free.
If you already have that particular book on your account then you can use Amazon's Matchmaker tool to find the audio companion to ebooks that you have already purchased.
The audiobook of White Fang is narrated by Peter Husmann and the runtime is approximately 8 hours.
Amazon and Audible having been giving away a free audiobook each month along with a free classic Kindle ebook to help promote their Whispersync for Voice feature that syncs Kindle ebooks and Audible audiobooks together so that you can easily switch back and forth between listening and reading.
You don't need to own a Kindle to get the free audiobook. You just need an app, either a Kindle app or an Audible app to listen to the audiobook. Here's more information about how to use Amazon's Whispersync for Voice and immersion reading features.
Kindle Book Sales
Just about every day here lately Amazon has been running 1-day sales on select Kindle ebooks as part of their Deals of the Day, so that's worth keeping an eye on each day if you like to get ebooks for cheap.
Today's Kindle ebook deal of the day includes 2016 Kindle Best of the Month picks for $3.99 or less.
Here are some other Kindle book deal links:
50 Kindle Book Deals for $2 Each
150 Kindle Books Starting at $0.99 each
Up to 60% off select series bundles
Select Mystery, Thriller & Suspense Kindle books starting at $0.99