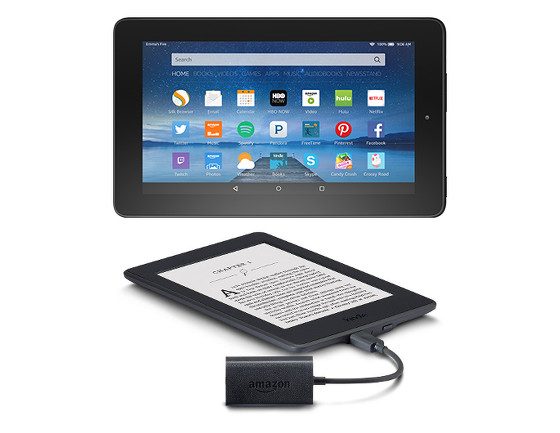 Kindle ereaders haven't supported text-to-speech for five years, not since the original Kindle Touch from four generations back, but the question still comes up all the time.
Whenever a new Kindle comes out one of the first things that gets asked is if it supports text-to-speech or not.
Technically newer Kindles do support a form of text-to-speech but the feature is meant as an accessibility feature for visually impaired people.
The feature is called VoiceView for Kindle. It reads everything on the screen aloud, including menus and actions.
See my Kindle VoiceView review to see it in action.
It's more limited than regular TTS and you can't change voices or anything and it makes using the Kindle awkward because you have to use a series of touch commands to navigate.
The bottom line is VoiceView is meant to be used by visually impaired people only, not for regular text-to-speech functions.
There's also the fact that ereaders are designed to have a small battery because batteries add a lot of weight and E Ink doesn't require much power anyway.
So the battery charge of an E Ink Kindle can only last a few hours when it comes to playing audio.
Tablets on the other hand have much larger batteries and can stream audio for literally a couple of days straight (when I had an iPad the battery charge would only go down 2% per hour when streaming Pandora to Bluetooth headphones, and that requires two wireless services to run constantly).
At this point in time it's more logical for Kindles not to have text-to-speech. After all, these newer and better alternatives didn't used to exist when Kindles first started making text-to-speech popular.
Fire Tablets
Fire tablets have far better text-to-speech support than any E Ink Kindle has ever had, with better voices, more voices to choose from, and more adjustable settings. Plus they have the added benefit of being able to highlight the text as it reads aloud, a handy learning tool.
All current Fire tablets support text-to-speech (including the cheap $49 Fire), and so do most of the older ones.
Here's a list of Kindle devices and apps that support TTS.
If you don't need to see the text on the screen, then other alternatives to consider for reading Kindle ebooks aloud is an Amazon Echo or Tap device.
Amazon Echo and Tap
A lot of people still don't know that Amazon's Alexa-enabled devices are a good option for reading Kindle ebooks aloud.
The Amazon Echo, Tap, and Echo Dot all support text-to-speech for Kindle books.
You could even use a Fire TV to read Kindle ebooks out loud if you wanted to.
The Echo Dot is the cheapest option along with the entry-level Fire tablet, both being priced at $49.
That's quite a bit cheaper than the basic Kindle for $79, and the VoiceView TTS feature just isn't very practical with it because the battery can only last a few hours for audio.
In this day and age a Fire tablet or an Echo device work better for TTS than E Ink ereaders so it's rightfully time for Kindles to let that feature go.