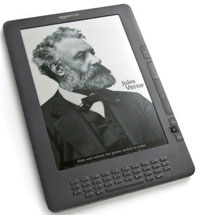 In a move that's sure to bring up some controversy, Amazon has quietly dropped support for registering 1st and 2nd gen Kindles, including both versions of the Kindle DX, according to reports over at MobileRead, which was confirmed by an Amazon representative (it has since been recanted; see update below).
If you have a 1st or 2nd generation Kindle you definitely don't want to perform a factory reset on your device because you will no longer be able to re-register it with your Amazon account.
This doesn't change the behavior of currently registered Kindles, except you can no longer de-register them either.
Amazon has seemingly disabled the service that registers and de-registers 1st and 2nd gen Kindles.
Those were the models that came with 3G only and no Wi-Fi, so it stands to reason maybe the network has something to do with it, but that doesn't explain why the wireless still works just fine to browse the Kindle store from these older devices.
It seems that Amazon is set on dropping support for registering older Kindles whether it makes sense or not.
Last year there was a major update for older Kindles in order to keep wireless services working.
Hopefully things will continue to work normally for updated registered Kindles, but that certainly boxes them in if you can't ever re-register them again.
This also completely kills off the used market for 1st and 2nd gen Kindles, including the still-loved Kindle DX, if they can't be registered anymore.
You can read more about it on this thread at MobileRead, and here's the specific post with the email from Amazon support confirming the change in policy.
Update: A couple of big tech sites picked up on this story and as soon as that happened Amazon fixed the problem immediately, so registering 1st and 2nd gen Kindles now works again. They claimed it was a bug but it was pretty clear it was intentional from the customer service rep's initial explanation. That same rep emailed the person back and apologized for providing inaccurate information. Either way the problem is fixed now so it's all good.