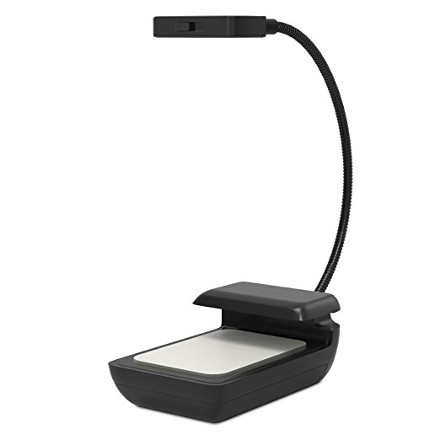 Back before ebook readers had frontlights we had to carry around a secondary piece of gear just to be able to read whenever there wasn't sufficient lighting.
If you had an E Ink ebook reader before frontlights came along there's a good chance you also had a clip-on reading light as well, or perhaps a cover with a light built in.
Clip-on lights still come in handy for ereaders like the $79 Kindle that lack a frontlight, but I'm sure glad not to have to deal with lights anymore.
The added weight of the batteries is annoying, not to mention having to pay to replace them all the time.
Frontlights are the best thing to happen to E Ink ereaders in the past five years.
Unfortunately they first started coming out 5 years ago now so it's about time for a new major innovation…
Released back in 2008, the Sony PRS-700 was the first E Ink ereader to have a built-in light, but it was poorly executed and Sony never tried that again.
Frontlights didn't become popular until 2012 when the Nook Touch with GlowLight was first released. After that everyone started coming out with frontlit ereaders and now only a few non-frontlit models remain.
Having a frontlight is nice for when you want to read at night without a lamp, but they also help make the screen background appear lighter and the text easier to read. E Ink is darker than paper so the added light helps improve contrast during the day too. Most people keep the frontlight on all the time.
I like frontlights so much that I don't understand why they still make ebook readers without frontlights. I'm surprised they haven't been phased out like ereaders without touchscreens.