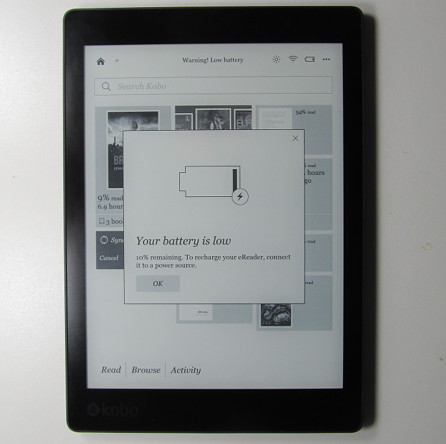 One of the main things that separates ebook readers from other devices is their E Ink screens that use very little power, making it so ereaders can go weeks without needing their battery charged.
Some companies even claim certain models can go up to 2 months between charges, like the Kindle Oasis and Kobo Aura.
I've always found that number to be unrealistic.
Most ereader batteries last about 2-4 weeks with regular usage.
Maybe they can go 2 months if you're barely using them.
The numbers are usually based on using an ereader for 30 minutes per day with wireless turned off and the frontlight at a medium-low setting.
They used to go by the number of page turns for estimating the battery life of ebook readers. They'd say a battery charge can last up to 8,000 page turns, but I'm pretty sure no one ever sat down and counted them to see if that was accurate.
Now 4-6 weeks is a typical number for many devices. The Kindle Paperwhite, Kindle Voyage, and Nook GlowLight Plus all boast up to 6 weeks of battery life per charge.
The entry-level Kindle and Kobo Aura One both claim up to 4 weeks of battery life.
On the lower end, ereaders with open Android are often closer to 2 weeks per charge since the operating systems are more advanced and use more power to accommodate a wider range of features.
Those are just estimates, however. The numbers can vary a lot depending on usage.
How many weeks does a battery charge typically last with your ereader?