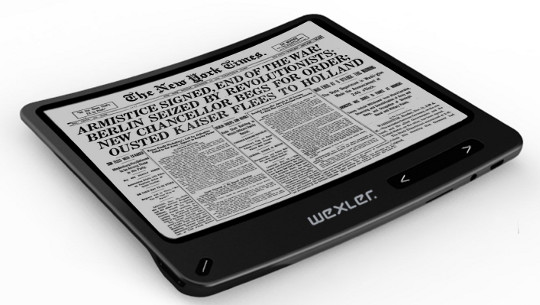 Why is it that in 2017 we still don't have a single option for a smaller ereader with a plastic-based screen?
E Ink has been making plastic screens for their 13.3-inch devices for a few years now, but why don't they offer any smaller screens with a plastic substrate?
Normally you'd think of plastic as being a downgrade from glass, but when it comes to E Ink screens that is not the case.
Plastic-based screens are much more durable and lighter than glass screens.
A Kindle with a 6-inch plastic screen would be nearly unbreakable.
Current ereaders with glass screens are quite fragile. The glass isn't very thick and can be easily broken, especially if put in a bag with other items.
E Ink screens are more prone to break than a typical screen on a tablet or phone, so why haven't plastic screens remedied this problem?
Several years ago there was an ereader called the Wexler Flex One (pictured above) that had a plastic-based screen from LG, but it wasn't on the market for very long and there were reports of problems producing the plastic screens. But if E Ink can successfully make 13.3-inch screens now why not 6-inch screens too?
E Ink screens have pretty much maxed out screen resolution at this point; anything more than 300 ppi on a 6-inch screen is just overkill that is going to hinder battery life and overall performance.
The next big improvement for E Ink screens should come in terms of durability and lighter weight. Plastic-based screens are the obvious answer. But will it ever happen?