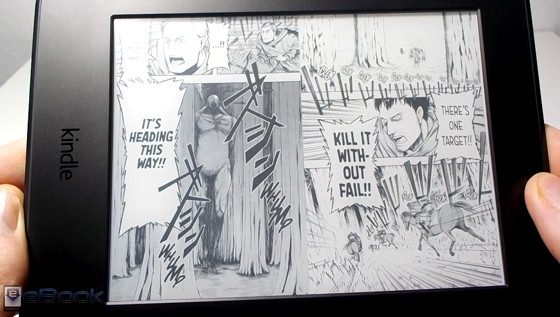 A couple weeks ago Amazon started rolling out a new software update for Kindle ereaders that added some new manga features, among other things.
I don't read manga usually but I wanted to see how the Kindle handles things like manga and graphic novels since I already posted a manga review for the Kobo Aura One after it was released last fall.
You'd think that the larger 7.8-inch screen on the Aura One would make it the obvious choice for reading comics and manga compared to all the 6-inch Kindles, but things aren't always what they seem.
After testing both I have to consider the Kindle the better ereader for reading manga.
In addition to offering several additional features, Kindles are a lot faster and more optimized than Kobo ereaders when it comes to manga, comics, and graphic novels.
All the current Kindles have the same exact software features so one isn't better than the other, except the low resolution screen on the $79 Kindle is less than ideal for graphics and small text.
I compared the same exact free Attack on Titan Sampler on both the Kobo Aura One and Kindle Paperwhite, and overall the Kindle version is way faster.
The Kindle can actually turn two pages faster than the Kobo turns one, and that's with the Kindle's regular page turns, not the fast scanning feature, which is a lot zippier. Things like pinch-zooming and scrolling are a lot smoother on the Kindle as well.
With the Kindle if you tap the screen and hold down it activates the fast page scan feature, and you can drag your finger left or right to control the speed of page turns.
Another way to scan through pages is to open the menu and tap the page view icon at the bottom of the screen. This allows you to scan through pages in a separate window without leaving the page you're currently viewing.
Kindles also have a panel view mode that moves from one panel to the next. You can turn it on in display settings (Aa) and then double tap the screen to turn it on and off.
Another new feature they just added shows a thumbnail image at the bottom of the screen whenever a page is bigger than the screen's viewing area, like 2-page images. Tapping on the image will show the full page in landscape view and then tapping it again returns back to regular view.
You can also use landscape mode to view two manga pages at once side-by-side.
The last update added the option to crop margins, available from the display settings menu. You can turn full page refresh on and off from there as well.
Here's a video review showing the Kindle manga features in action, along with a quick comparison with the Kobo Aura One.
Kindle Manga Video Review