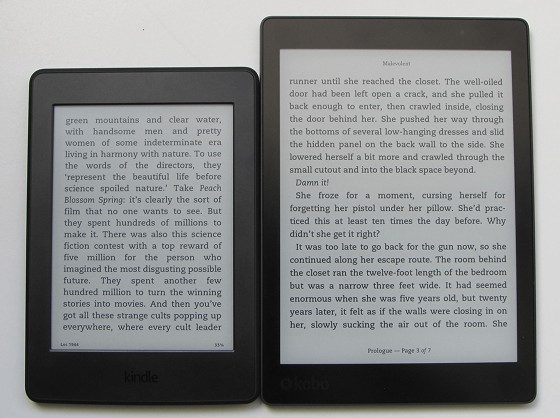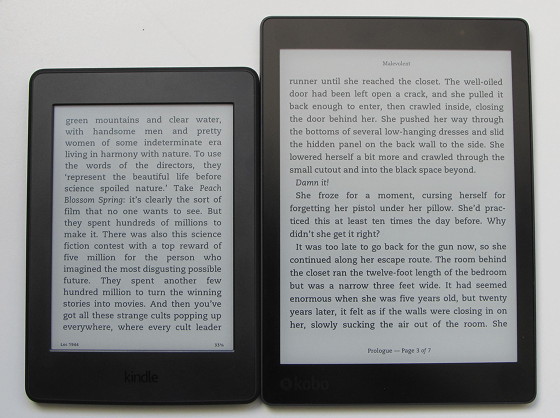 Everyone has different opinions and needs when it comes to ebook readers. For some people portability is more important than screen size, and for other people a larger screen is more important than being able to fit the device in a pocket or purse.
I've owned a lot of ereaders over the years. The smallest was the 4.3-inch Pyrus Mini and the largest is the 13.3-inch Sony DPT-RP1. By far the most common size is 6-inches, but I've also reviewed 5-inch, 6.8-inch, 7.8-inch, 8.1-inch, and 9.7-inch E Ink ereaders.
Out of all the sizes my personal favorite is the 7.8-inch 300ppi screen on the Kobo Aura One.
I think Kobo really hit a sweetspot with that size.
You can fit a good amount of text on the screen without having to page forward constantly, and the device is still small enough that it's not too heavy to hold for long periods of time.
To me the 7.8-inch size is perfect for reading ebooks, especially if you favor larger font sizes.
Now for PDFs it's a different story. I think you need to go up to a minimum of 9.7-inches for a good reading experience, but there's no beating the 13.3-inch E Ink screens when it comes to PDFs.
For ebooks, I much prefer the 7.8-inch screen size. Now that I've gotten used to it 6-inch screens just seem too small, and yet the devices are still a little too large for easy portability. I'd rather have something even smaller for reading on-the-go, like a 4.3-inch ereader that easily fits in a pocket.
The Kobo Aura One was released almost a year ago now and it's still the only 7.8-inch ereader on the market. The Illumina XL HD is expected to get released soon and it will be the second. Hopefully more companies will follow Kobo's lead and start offering 7.8-inch ereaders too. It's a great size for reading.