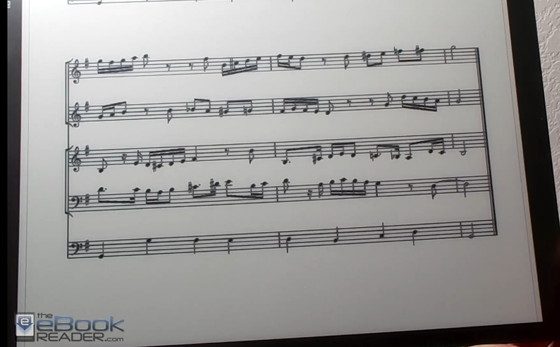 Some people have been asking about how the Sony DPT-RP1 fares when it comes to reading sheet music, so I uploaded a quick video demo showing a few different sheet music files in action.
The Sony Digital Paper device supports PDF format only, and since you can often find sheet music in PDF format it seems like a natural fit with the DPT-RP1's large 13.3-inch screen.
Plus the screen is made of E Ink so it uses very little power and can work quite well for long practice sessions.
The one main hangup with using the DPT-RP1 with sheet music is the fact that you have to use your fingers to turn pages.
The device supports Bluetooth but only for transferring documents so you can't connect a wireless page turner, for instance.
The device also lacks a lighted screen so you have to rely on other light sources like real paper.
I've been using the Sony DPT-RP1 with guitar tablature since I got it and it works very well for that.
It's so much better than dealing with paper tablature books because they are a major hassle to keep upright and open to the right page without a dedicated stand and page holder.
You can also use the Sony Digital Paper's stylus pen to write handwritten notes and actual music notes onto the page. You can load in a blank template and start writing from scratch, view two pages at once, view two different documents at once, and zoom in for a closer look.
The zoom feature can help with the writing aspect because you don't have to write so small, and you can use it to focus in on one section at a time when learning new songs.
See the full review of the Sony DPT-RP1 for more details about the device.
Sony DPT-RP1 Sheet Music Video Review