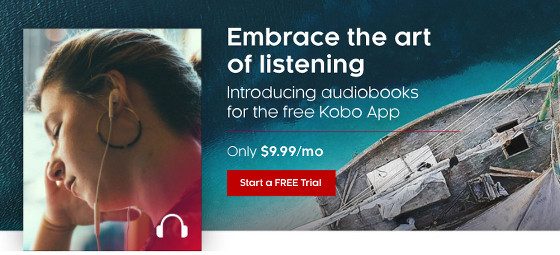 Last week Kobo started selling audiobooks on their website alongside ebooks.
They also introduced an audiobook subscription plan that costs $9.99 per month in the US and $12.99 in Canada. Basically you get one audiobook per month with the current subscription, and they plan on adding more options in the future.
Kobo's audiobooks can be purchased individually without a plan as well.
I was looking at the prices of some of them and I'm always surprised by how expensive audiobooks are.
Some audiobooks sell for over $50 and yet the ebook is only like $10. It makes no logical sense whatsoever.
No wonder Kobo and other audiobook companies have to resort to convoluted subscription plans or no one would buy audiobooks.
A quick glance at a number of random titles, it becomes quickly apparent that Kobo's audiobooks are often priced higher than the same titles at Amazon/Audible. A few are cheaper at Kobo but most are cheaper through Audible.
Here a few examples from Kobo's top 50:
The Girl on the Train – $28.00 at Kobo; $23.95 at Amazon
Thirteen Reasons Why – $26.60 at Kobo; $20.95 at Amazon
The Late Show – $30.79 at Kobo; $26.95 at Amazon
The Underground Railroad – $20.00 at Kobo; $23.95 at Amazon
The Hobbit – $20.97 at Kobo; $17.95 at Amazon
At lot of Kobo's prices are higher but Kobo has a price advantage over Audible when it comes to the subscription plan. Kobo's is $10 per month and Audible's is $15. Both grant 1 credit per month to exchange for any audiobook, but with Audible you get 2 free audiobooks to subscribe and with Kobo you get one.
It makes you wonder if Kobo's plan is to offer a lower price on subscriptions than Audible but with higher prices on individual titles to make up for it. If that's the case you're better off shopping around for individual titles to get the lowest price because Kobo's audiobooks often priced higher.
Kobo also has their Price Match Guarantee that extends to audiobooks so you could get lower prices from them in the form of a store credit.