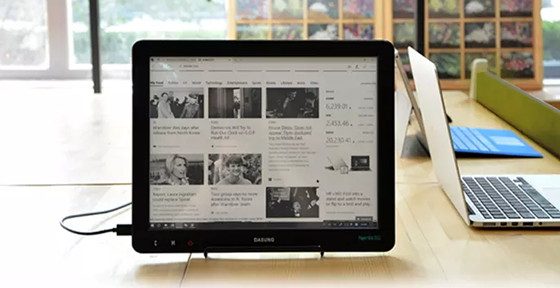 Dasung started a crowdfunding campaign on Indiegogo a couple of weeks ago for their new 2nd gen Paperlike Pro monitor with a 13.3-inch E Ink screen.
It's the first E Ink monitor with an HDMI port; the 1st gen Paperlike used a slower USB connection. The HDMI allows for faster response, nearly as fast as LCD, and the speed does indeed look impressive in the videos.
The Paperlike Pro works with PC and Mac computers, along with Surface tablets, Linux Ubuntu, and it can mirror iPhone and iPad display as well.
The Indiegogo campaign has already reached its funding goal, but they only needed to sell about 12 to hit the 10k mark.
Several dozen are still available to purchase. The price starts at $799 USD plus shipping and it's expected to ship next month.
Like other 13.3-inch E Ink ereaders, the price is quite steep but if you want one of these you're better off getting in now through Indiegogo because the only US reseller is currently charging $1399 for the same product.
The Paperlike Pro has a 13.3-inch E Ink Carta display with a resolution of 1600 x 1200, so the pixel density isn't as high as the Onyx Boox Max and Sony DPT-RP1 with their 1650 x 2200 E Ink Carta screens.
E Ink Monitor Paperlike Pro (HDMI)