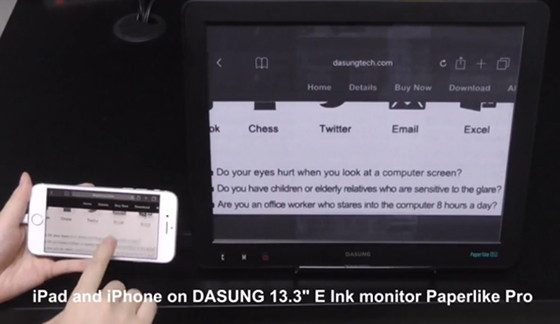 Dasung recently released a 2nd generation version of their 13.3-inch E Ink monitor, the Paperlike Pro.
Generally the Dasung Paperlike is thought of as a secondary monitor for a laptop or computer, but the 2nd gen model can also be used to mirror iPhone and iPad displays as well.
The Paperlike Pro is the first E Ink device to feature an HDMI port for connectivity.
It has a 13.3-inch E Ink Carta screen similar to the Sony DPT-RP1, but it uses a lower resolution 1600×1200 screen.
It doesn't have a frontlight but it does have an extra USB port to plug in a lamp.
The cool thing about the Paperlike monitor is that it doesn't need a battery or require a power supply; it draws enough power through the HDMI connection to run the E Ink display.
Dasung recently uploaded a video showing how fast the refresh rate is on the Paperlike's screen, and it's just as impressive using an iPad and iPhone. It's surprising how responsive the E Ink screen is with scrolling and zooming—there's not nearly as much ghosting or flashing as other E Ink devices.
The funny thing is they state that the Paperlike Pro is compatible with Windows, Mac and Linux Ubuntu systems, but then they upload a video showing it working with iPads and iPhones so obviously it works with them too.
iPad and iPhone on Paperlike Pro