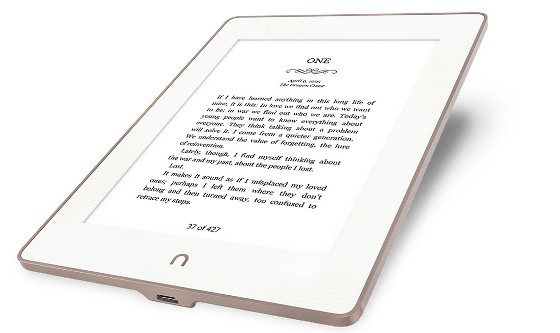 It's interesting how there seems to be way more positive vibes about the new Nook Glowlight 3 than the previous model, the Nook Glowlight Plus.
On paper (and in pictures) the Glowlight Plus clearly looks like it's the superior device.
It has a higher-end design with a flush glass screen and aluminium back.
It has a futuristic sensor button below the screen instead of an old fashioned real button. It has a more common capacitive touchscreen instead of an older infrared touchscreen. Oh, and it's waterproof.
All that for only $10 more than the new Nook. I used to think it was the lower price that made entry-level ebook readers more popular, but that's not the case with the Nook.
Could it be that people simply don't want or need all that from ereader? Could it be that basic is better?
I will confess that I like the Nook Glowlight 3 better than the Glowlight Plus. It's more comfortable to hold, the soft texture provides better grip and isn't cold and slick like aluminum, and I've always been a big advocate of page buttons on ebook readers.
I also don't mind indented screens and larger bezels. Flush screens and narrow bezels look nice but the combination makes it harder to hold comfortably without accidentally brushing the screen and inadvertently turning the page or activating highlights.
I bet if Amazon released a new lighter Kindle Paperwhite 4 with page buttons and an adjustable frontlight it would be a lot more popular than the new Kindle Oasis too.
Keeping things simple isn't always a bad thing. Just give me page buttons, a comfortable-to-hold design, and a nice frontlit E Ink screen. That and good software is all it takes.
What about you? Do you like premium or basic ebook readers better?