Kindle Oasis 2 Audible Audiobooks Review and Battery Life Test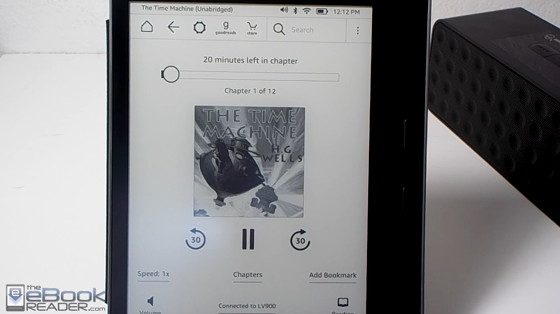 With the release of the Kindle Oasis 2, one of the new features that Amazon brought back is the ability to play Audible audiobooks.
Older Kindles used to be able to play audiobooks too, like the Kindle Keyboard and the 1st Kindle Touch, but they phased out audio support with the release of the 1st Kindle Paperwhite.
Now Amazon is bringing back Audible support not only to the new Oasis, but also to the 1st gen Oasis as well as the entry-level Kindle.
However, it should be noted that Audible support works differently on Kindles than on Fire tablets.
With Kindles you can easily switch back and forth between reading and listening, and it keeps track of your spot, but Kindles don't have immersion reading like Fire tablets where it highlights the text while the audiobook is being read aloud.
On Kindles you can't view the ebook while the audiobook is playing.
When you open an audiobook Bluetooth automatically turns on to connect to speakers or headphones since the Kindle has no built-in speakers or audio jack.
Once the first chapter downloads, you can listen to an audiobook while it downloads, but there is no way to stream audiobooks from the cloud.
The audiobook interface allows you to select chapters, add bookmarks, adjust the speed of speech from 0.5x to 3x, and adjust the volume. You can also jump forward and back by 30 seconds.
Some folks really like having audiobooks on their Kindles, but the argument can be made that Kindles just aren't a very good option for audiobooks.
The main limitation is battery life. Kindles have small batteries because E Ink doesn't require much power, and smaller batteries also help make the devices lighter and more comfortable to hold.
I wanted to see how long the battery would last on the new Kindle Oasis when playing audiobooks so I did a test. I charged the battery to full and turned Wi-Fi off and connected a Bluetooth speaker and let it play an audiobook until the battery died. I also closed the cover so the screen would turn off (it seems to stay on indefinitely with audiobooks unless you turn it off or close the cover).
The battery lasted a little over 8 hours before the screen went blank and the Kindle became unresponsive.
When I say it became unresponsive I mean it completely froze up. Even after a full recharge the screen remained blank. Holding the power button brought up the option to restart but and the device would just return to the blank screen and nothing else. I thought it might be broken for good but then I held the power button down for like 30 seconds and that forced a restart and it's worked fine since.
I did the same test with the $49 Fire tablet to see how battery life compares. After 12 solid hours of streaming to the same Bluetooth speaker, the Fire tablet still had a charge of 54%.
That's pretty impressive considering the $49 Fire tablet has the shortest battery life of current Fire tablets at up to 8 hours (of course that's with the screen on and you don't need it on to stream audio).
Fire tablets also have immersion reading and text-to-speech so that along with longer battery life helps make them a better option for audiobooks than Kindles, especially when you factor in the price.
It's good to see Amazon bringing back audiobook support on Kindles for people that want it, but phones and tablets are still the better option in terms of battery life and extra features.
I'll admit it's quite nice to switch back and forth between reading and listening on the Kindle Oasis 2, but the battery life really takes a hit when playing audiobooks. It's going to be even worse on the $79 Kindle because it has the smallest battery of them all.
If you only want to listen to audiobooks a little bit now and then while switching between reading, the Kindle Audible integration will probably work fine for you, but if you want to listen to audiobooks for longer sessions you'd be better off using a different device.