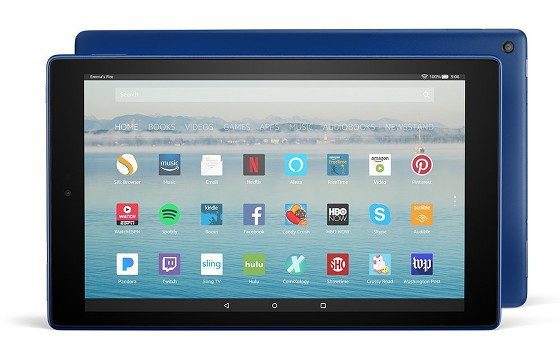 Yesterday Amazon issued a press release with a sneak peek at some upcoming deals to expect for Black Friday.
It's important to note that Amazon's Black Friday deals start this Friday, November 17th, and run through next Friday (actual Black Friday) and over the weekend into Cyber Monday, so basically there will be 11 days of sales, with new deals getting added each day.
If you've been thinking about buying a new Kindle or Fire tablet, this upcoming week will be the best time to do so.
One of the top deals of the year, the Fire HD 10 will be marked down to $99.
It normally sells for $150 and even then it's one of the least expensive 10-inch tablets on the market with a high-resolution 1080p screen (I use the Fire HD 10 every day and think it's a great buy at that price).
The Fire HD 8 will also be on sale for $49, and most of Amazon's other devices will be on sale at some point as well.
They haven't listed all the Kindle deals that are going to happen yet, but you can expect the Kindle Paperwhite to be on sale for $89, and the entry-level Kindle to be on sale for $49.
They'll likely put other models and bundle packages on sale as well, all except the new Kindle Oasis 2.
Below is a list of some of Amazon's Black Friday deals that will be available at various times between November 17th and November 24th.
Check Amazon's Black Friday Deals page for additional sales. They're doing countdown deals until Friday when some of these deals will start going up.
Amazon Devices
Save $20 on Echo Dot, only $29.99 – the lowest price ever for Echo Dot
Save $20 on All-New Echo, only $79.99
Save $30 on Echo Plus, only $119.99
Save $50 on Amazon Tap, only $79.99
Add a smart plug to any Echo purchase for only $5 ($20 off)
Save $20 on Amazon Cloud Cam, only $99.99
Save $30 on Fire 7 Kids Edition, only $69.99 – and save an additional $10 when you buy two Fire 7 Kids Edition tablets, only $129.98
Save $40 on Fire HD 8 Kids Edition, only $89.99 – and save an additional $10 when you buy two Fire HD 8 Kids Edition, only $169.98
Save $50 on Fire HD 10, only $99.99 – the lowest price ever for the Fire HD 10
Save $30 on Fire HD 8, only $49.99
Save $30 on Kindle Paperwhite, only $89.99
Save $30 on Kindle, only $49.99
Save $30 on Kindle for Kids Bundle, only $69.99
Save $15 on Fire TV Stick with Alexa Voice Remote, only $24.99
Electronics
Premium brand 40-inch smart TV, only $279.99
Sony 75-inch 4K Ultra HD smart LED TV (2017 Model), only $1,999.99
Sony 70-inch 4K Ultra HD smart LED TV (2017 Model), only $1,199.99
Samsung UN65MU8000 65-inch 4K Ultra HD smart TV (2017 Model), only $1,297.99
Sony 65-inch 4K Ultra HD smart LED TV (2017 Model), only $1,499.99
Samsung UN55MU8000 55-inch 4K Ultra HD smart TV (2017 Model), only $897.99
Sony 55-inch 4K Ultra HD smart LED TV (2017 Model), only $999.99
32-inch 720p TV, only $69.99
49-inch 4k TV, only $159.99
Save up to 30% on select TP-Link smart home and networking products
Save up to 25% on select Seagate hard drives
Save up to $150 on Acer Helios 300 Gaming Laptop
Save up to $120 on Cyberpowerpc Gaming Desktop
Save 30% on Corsair K70 Gaming Keyboard
Save up to 35% on select SanDisk memory products
Save up to 40% on PC gaming laptops, desktops, components and more
Save up to 25% on select 3D printers
Toys
Save up to 35% on Melissa & Doug toys and furniture
Save up to 40% on K'NEX Thrill Rides-Kraken's Revenge Roller Coaster
Save up to 30% on select Crayola arts and crafts
Save up to 30% on select Paw Patrol toys
Save up to 50% on select Zoomer toys
Home Furnishings
Save up to 35% on select Thanksgiving and holiday décor
Save up to 40% on select mattresses, furniture and area rugs
Save up to 35% on select Rubbermaid products
Save up to 40% on select Thermos products
Smart Home
Save up to $40 on Schlage Smart Lock – Works with Amazon Alexa
Save $50 on Bluetooth-enabled Opal Nugget Ice Maker
Save $100 on SmartThings Home Monitoring Kit
Video Games
Save up to $100 on select Playstation virtual reality bundles
Save up to 50% on Just Dance 2018 Gold Box
Music, TV, Movies & Books
For the first time ever, non-Prime members as well as Prime members who haven't yet tried Amazon Music Unlimited can get three months of the full catalog on-demand service with access to tens of millions of songs, for just $0.99 starting today
Save 40% on new release movies and TV seasons, as well as catalog best sellers available to rent or purchase and instantly stream on Amazon Video
Save up to 80% on select Kindle best-selling books
Pets
Save 35% on Soft WellBites Dog Treats
Save 15% on Fluval 2.6-Gallon Aquarium Kit
Sports & Outdoors
Save up to 60% on New Balance shoes and apparel
Save up to 30% on Under Armour TB12 Recovery Sleepwear
Save 20% on select Tumbl Trak products
Save on Bushnell Binoculars and Camelbak Hydration
Save up to 35% on select camo apparel
Save 20% on select Barska products
Save up to 25% on Nikon Coolshot 80 Rangefinder
Save 20% on Atomic Foosball Table
Save 25% on select X-Rocker Gaming Chairs
Save up to 35% on select Killerspin Table Tennis Rackets
Save 20% on select Paragon popcorn machines
Small Businesses and Entrepreneurs: Small businesses and entrepreneurs selling on Amazon come from every state in the U.S., and more than 130 countries around the world. Customers can shop deals from small businesses and entrepreneurs, including startups in the AmazonLaunchpad and Amazon Exclusives programs, on everything from toys and electronics to sporting equipment and clothing:
Save 30% on Segway Minipro 2018 Edition
Save 20% on Star Wars Droid Inventor Kit
Save $30 on Anki Cozmo
Save 80% on Queen Rose Full Pregnancy Body Pillow
Save 20% on CoffeeGator Pour Over Coffee Maker
Save 60% on Silpada 'Santa Fe' Sterling Silver, Brass and Turquoise Bracelet