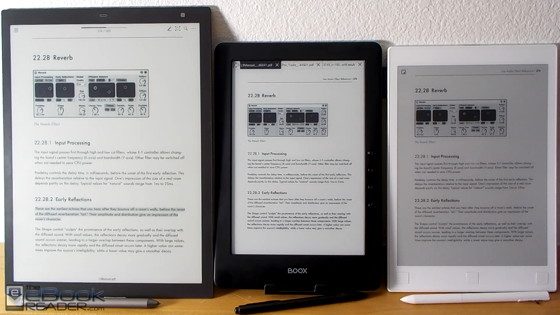 Now that 2018 is upon us we have a whole new year of new ebook readers to look forward to, with more possibilities for innovation than ever.
Perhaps a new low-power color display technology like ClearInk will start to take off.
Amazon is due to release an updated Kindle Paperwhite sometime this year. Some folks are hoping for a larger version.
The Kindle Voyage has been out for over 3 years now as well and it could use a refresh.
I'm hoping for more ereaders with plastic-based E Ink screens getting released in 2018. Currently only large 13.3-inch models like the Sony DPT-RP1 and Onyx Boox Max have plastic-based screens, along with the 10.3-inch Remarkable.
Onyx is expected to release some 10-inch models with plastic screens later this year, but hopefully E Ink starts making them for smaller screens as well. It's time for ereaders to move away from glass screens. Plastic is much lighter and much more durable.
A 6-inch Kindle or a new 7.8-inch Kobo Aura One with a super lightweight plastic screen would be great. Ever since I reviewed the Sony DPT-RP1 I've really been looking forward to a smaller version. Without glass, the Sony is much thinner and lighter than you would expect; it's like a completely different type of device.
Sony and E Ink created a new company called Linfiny last year so there's a good chance we could start seeing more large-screen E Ink notebooks in 2018 as well.
So what do you want from new ereaders in 2018?