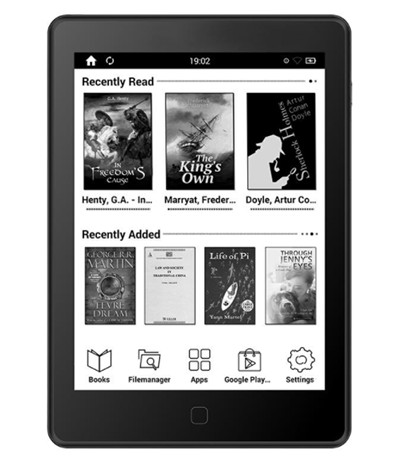 About a month ago the 7.8-inch Likebook Plus and 6-inch Likebook Air turned up for sale from Banggood, and now they've got a second Likebook Air up for pre-order.
It appears to be exactly the same as the other model with the exception that it has 8GB of storage space and 512MB of RAM instead of 16GB of space and 1GB of RAM.
With a pre-order price of $116, the Boyue T65s sells for about $50 less than the version with more storage.
However, Banggood's pre-order prices are unusual. The price goes up with more orders. The regular price is listed as $131, but you can usually find coupon codes online to take more off.
The Bouye T65s (or Likebook Air) is a 6-inch frontlit ebook reader with a 300 ppi E Ink Carta display. It runs Android 4.2.2 and is open to install apps.
The built-in reading app supports ePub, PDF, MOBI, TXT, FB2, RTF, HTML, and some other formats.
It has Wi-Fi, Bluetooth, and a capacitive touchscreen, but there doesn't appear to be any memory card slot like on previous Boyue models.
According to the listing, it's supposed to start shipping after January 10th.