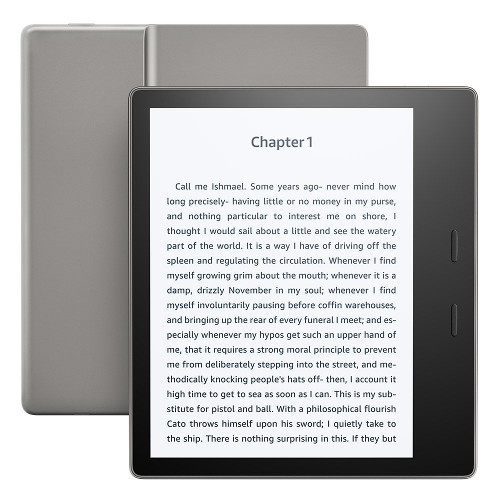 The Kindle Oasis 2 was released last October, and some people really seem to like it a lot, but it has received a fair amount of criticism as well.
By far the biggest complaint that comes up is about the battery not lasting as long as expected between charges. Another complaint circling around various forums—including on Amazon, Reddit and MobileRead—has to do with the page buttons not always responding on the first press, or the buttons refusing to respond altogether.
This is a bug that I have not encountered, and I've been using the Kindle Oasis 2 regularly here lately.
Have you had any issues with the page turn buttons not always responding on your Kindle Oasis 2?
It's not something I remember ever hearing about with the 1st gen Oasis.
A few times I've encountered a different bug where part of a sentence doesn't display at the bottom of a page, but then changing the font size makes the missing sentence magically reappear. It's not something I've encountered lately, however.
Back when I first got the Kindle Oasis 2 I remember it taking a couple seconds to respond to paging and opening the menu when first opening a book, but it doesn't do that anymore, and it may have just been a result of indexing.
Starting at $249, the Kindle Oasis 2 is Amazon's premium Kindle so it has greater expectations to live up to. The Oasis is the only model with real page buttons; the Voyage has sensors and the other current Kindles don't have page buttons at all, so it's pretty important for the buttons to work properly on the Oasis 2.
Personally I'm a big fan of page buttons on ereaders, and I'm glad not to be annoyed by this reported bug, but what about the buttons on your Kindle Oasis? Do they work as they should?