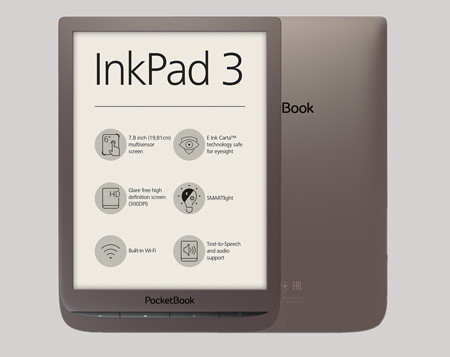 The recently announced Pocketbook InkPad 3 is one of the most intriguing new ereaders to surface so far in 2018.
A brief video review has turned up on YouTube that makes it look even more interesting. The video is in German but it still gives a good look at the Pocketbook InkPad 3 in action even if you don't speak the language.
The Pocketbook Inkpad 3 has a 7.8-inch E Ink Carta screen like the Kobo Aura One and Likebook Plus.
It has a touchscreen and page buttons, along with a microSD card slot and a dual-core processor with 1GB of RAM.
The InkPad 3 features a frontlight with adjustable color temperature, called a Smartlight.
It looks like the device has an indented screen instead of the flat front screen that has become more common over the past few years.
The design is also kind of unique the way buttons are situated below the screen. It doesn't look anything like the previous InkPads that had the buttons on one side of the screen.
PocketBook InkPad 3 Video Review