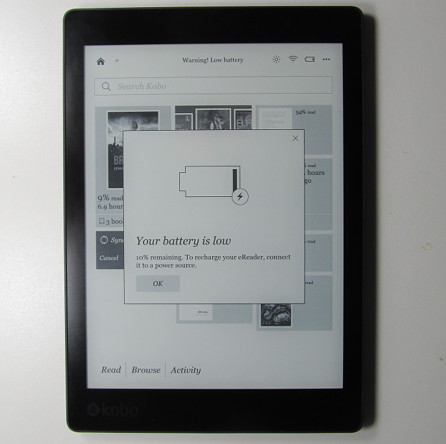 How many ebook readers have you seen being advertised with 1-2 months of battery life per charge?
Yeah, that includes pretty much all of them. B&N claims the Nook Glowlight 3's battery can last up to 50 days on a single charge. Amazon says Kindles can go 4-8 weeks between charges, depending on the model.
But are those realistic claims?
Or is it mostly just a marketing tactic that tries to make battery life seem better than it really is?
To me, it's clearly the latter. I don't know why ereaders with E Ink screens continue to be advertised with these unrealistic battery life claims.
They should be judged by the number of reading hours, not some ridiculous math formula based on reading 30 minutes per day for X amount of days with X amount of variables.
Why should reading for 30 minutes per day be defined as the official way to determine battery life?
I don't know why they can't just say how many hours the battery will last like other types of electronics.
Go look at laptops, tablets, phones, Bluetooth speakers, etc—and you'll typically find an estimated number of usage hours to determine battery life.
But for some reason E Ink ereaders continue to get by with convoluted battery life claims.
Saying an ereader's battery can last 1-2 months or 4-6 weeks per charge is a deceptive way of putting it. They used to go by the number of page-turns, saying an ereader's battery could last for up to 10,000 page-turns. That was even more ridiculous.
Most tablets on the market these days could last "weeks" on one charge if you only use them 30 minutes per day. It's not an honest, accurate representation of overall battery life.
From my experience the battery on devices like the Kobo Aura One and Kindle Oasis 2 typically last for 15-20 hours per charge, though that's at the lower end compared to other models.
Some iPads have batteries that can last 13 hours per charge so that's really not much of a difference, and that's based on continues web browsing over Wi-Fi. If you had Wi-Fi turned off and used it like an ereader the battery would last even longer than that.
So why do E Ink ebook readers continue to advertise unrealistic battery life claims? The only way a battery is going to last for more than a month is if you're hardly using the device at all.