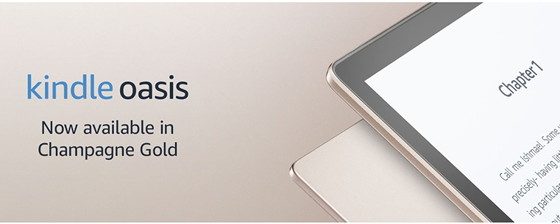 Bust out the champagne, Amazon has added a new color option for the Kindle Oasis 2.
Initially it was available in a gray graphite color only, but now there's a champagne gold Kindle Oasis that will start shipping next week.
It appears to only be available in the 32GB option, with ads or without, and it's not available with cellular connectivity at this time.
Otherwise it's the same exact device; it just has a different color on the back and sides.
Adding a new color option at this point is kind of odd considering the fact that Amazon stopped selling the official Kindle Oasis 2 covers and still hasn't brought them back.
Aside from a small border on the front, the gold color is on the back and the sides of the device only so if you use one of the cases that covers the back, which is pretty much all of them, including the ones that Amazon recommends, the color of the Kindle Oasis doesn't really matter much unless you take it out of the case to read.
Nonetheless, it's always good to have options. The gold Kindle Oasis 2 officially gets released on March 22nd.