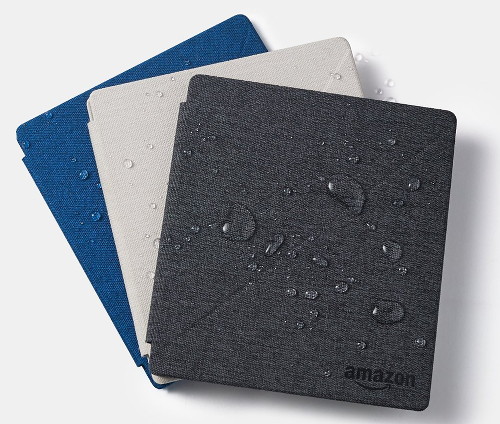 In the video review for the new Kindle Oasis 2 I briefly showed the official cover that Amazon sells for it, but I decided to put together a separate video for a closer look at how Amazon's standing covers work.
There are two different types of covers. The leather covers are similar to the ones that came with the original Kindle Oasis. They're available in three colors, black, merlot, and tan, and they sell for a whopping $60.
They also sell water-safe fabric covers for $45 that come in black, blue, and white.
So far the reviews at Amazon for both covers are scathing.
Both have an average of just over 2 stars. I think that's a bit extreme, but the covers do have some shortcomings.
I opted for the black fabric cover. I like the look and the feel of it, but the attaching magnets could stand to be stronger. It seems like it comes off easier than the cover on the 1st gen Kindle Oasis. You kind of have to get used to picking it up and attaching it a certain way, and then it tends to stay on better.
My biggest gripe with the cover is the fact that it's so overpriced. It probably cost them about $5 to make. It has no battery in it like the charging cover for the original Oasis, and it's just a thin flap that doesn't even cover the full back or sides.
On the plus side the cover doubles as a stand. The front flap has a diagonal crease down the center so that you can fold back the lower portion of the cover to prop up the Kindle Oasis. It actually works quite well and is sturdier than expected, except it's fairly easy to knock over from the back if something bumps it.
The front flap has a magnet that keeps the front closed and then it also attaches to the back when you flip it around. It feels more like a traditional ereader with the flat back that way, and it keeps your hand off the cold aluminum back of the Oasis.
But to me the Kindle Oasis feels better to hold without the cover on while reading. The cover adds an extra 110 grams or so. That's not a lot but it's enough to take the Kindle Oasis from 194 grams on its own to over 300 grams with it on.
The thing is you pretty much have to use a cover of some kind if you want to put your Kindle in a bag or purse to take it with you places. Hopefully since there's no battery in these covers some less expensive third-party covers will start coming out soon. Or you could always try to find an alternate type of case, like the USB DVD cases some folks were using with the last Kindle Oasis.
Kindle Oasis 2 Cover Review