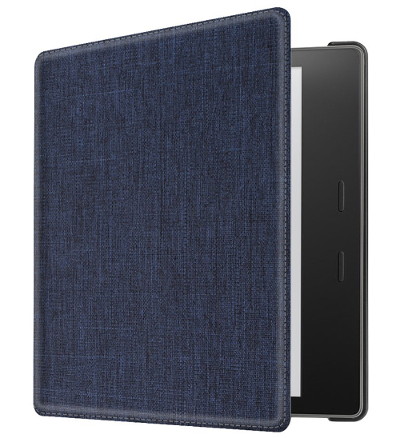 The Kindle Oasis 2 is the only Kindle to not have a matching Amazon cover available to purchase. Amazon offered fabric and leather covers initially, but after a slew of negative reviews they stopped selling the covers, and now they're only available used.
It's been a couple months now and still the Amazon covers have not returned. I actually like the fabric cover that I bought so it's kind of surprising that Amazon hasn't brought them back yet.
Now Amazon is advertising CaseBot covers in the add-on section of the Kindle Oasis product page.
They're doing the same over on Amazon UK as well.
The CaseBot covers are made by Fintie and they are similar to Amazon's original covers but they're less expensive and they cover the full back instead of just covering part of the back.
They have the auto sleep/wake feature but they lack the foldable stand option Amazon's covers had.
Like the original Kindle Oasis cases, the CaseBot covers come in fabric and leather. The fabric covers are available in four colors and the leather covers come in three colors.
The fabric covers are currently selling for $26.99 with free shipping and the leather covers are $29.99 to $30.98.