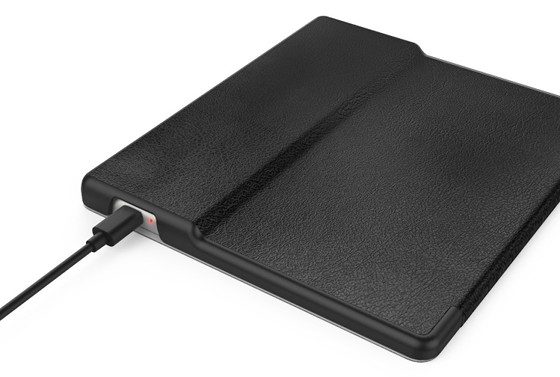 Amazon's official covers for the Kindle Oasis 2 are currently listed as unavailable for new ones, possibly because of all the negative reviews, only a few used ones are being sold now.
Luckily several alternative cases and covers from third-party companies are available for the Kindle Oasis 2.
Some, like the MoKo cases, have a high percentage of 5 star reviews and seem to be a lot more popular than Amazon's covers.
Plus 3rd party covers are much cheaper, some are less than $8 with free shipping.
I actually like Amazon's fabric cover for the Kindle Oasis 2, despite the rash of negative reviews, but it doesn't fully cover the back and sides like the other covers. The MoKo cover looks nice how it covers the entire back and adds some grip (pictured above).
When shopping for covers for the new Kindle Oasis make sure the cover is designed to fit the 2017 9th gen model. The first gen model was smaller so its covers aren't interchangeable with the new one.
Here's a short list of some of the more popular covers and cases for the Kindle Oasis 2. You can find full lists at Amazon and eBay. Lots of them seem the same but have different names.
Kindle Oasis 2 Covers List
MoKo Shell Cover with Auto Wake – This is one of the most popular options and it comes in several different designs and colors and costs less than $20.
Fintie Slim Shell Protective Cover with Auto Wake – Another popular option, Fintie cases cover the sides and back and have auto wake/sleep. They come in a bunch of different colors and designs and most cost under $15 shipped.
Konglin Leather Covers with Auto Wake – Another full-body style cover that comes in ten different colors.
ACdream Protective Leather Sleeve – This is a sleeve case that comes in six different styles, only costs $12 shipped.
Ratesell Smart-shell Stand Case Cover – Another inexpensive full-body cover similar to the Fintie covers, lots of colors and styles.
Fintie Multi Angle Hands-free Viewing Flip Cover – Another Fintie cover. This one doubles as a stand and covers the front of the Kindle Oasis as well.
Ultra Thin Lightweight Smart Case Cover – A no-name cover that appears the same as the Fintie covers but costs less than $10.
Folio Case for Kindle Oasis – Another generic cover on eBay for cheap.
Walnew Kindle Sleeve for 2017 Oasis – Another sleeve style cover designed for the 9th gen Kindle Oasis.