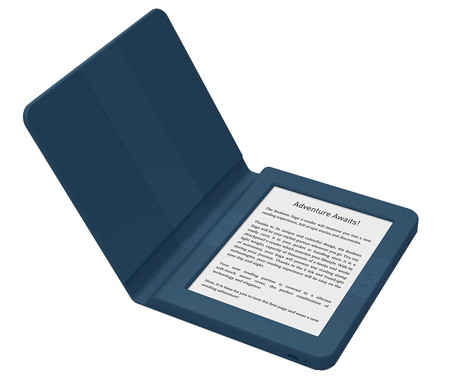 I came across a new video review of the Bookeen Saga on YouTube, posted below (it's in French), so I decided to check Bookeen's website and it turns out the Bookeen Saga now ships to the United States.
But there's one serious problem. Shipping costs more than the device itself. I did a test checkout and the only shipping choice was Fedex for €129 (and that was the cheaper option).
The Bookeen Saga is selling for €119, which equates to about $147 USD.
So together with shipping the grand total is €249, or about $307 USD.
If it were a premium model it might stand a chance but not many people will be interested in spending over $300 on a mid-level ebook reader in this day and age, especially when you can get a waterproof Kobo Aura One or Kindle Oasis 2 with 32GB for $279.
The Bookeen Saga has a 6-inch 212 ppi E Ink Carta screen with a frontlight and a capacitive touchscreen. It has 8GB of storage space, a 1GHz CPU, Wi-Fi, and an accelerometer to rotate the screen. It also has page buttons and the battery life is rated at up to one month.
For ebooks it supports ePub, PDF, HTML, TXT, FB2, and DJVU files, and Adobe DRM is supported.
One of the things that makes the Saga unique is the fact that it features an integrated silicone cover that's built in to the frame—you can't take it off. With the cover it weighs 320 grams, which is about twice as much as the basic Kindle without a cover.
Last fall Bookeen announced that they'd be selling the Saga worldwide. The device has already been available for quite some time in France and Spain, where it's called the Nolim ereader.
The Bookeen Saga comes in several different colors, including blue, black, yellow, red, and green. Hopefully shipping prices come down eventually. They should just sell them on Amazon like Onyx is doing with their ereaders.
Bookeen Saga Video Review