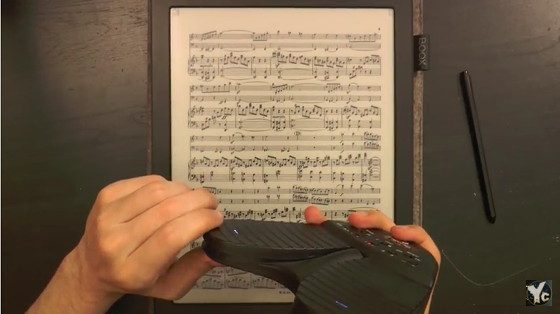 The Onyx Boox Max2 is one of the most versatile E Ink devices ever released. It's an ebook reader, a PDF reader, a digital notepad, it can work as a secondary monitor, it can be used as an audio player and recorder, it can install Android apps, among other things.
It can also be used to display scores and sheet music for musicians, both in practice and professional settings.
A new video was recently uploaded to YouTube with tips for musicians for using the Onyx Boox Max2 to display music files.
The large 13.3-inch screen is a good size to display sheet music, especially when cropping the margins.
One thing that makes the Max2 a better option than the Sony DPT-RP1 for sheet music is the fact that it supports wireless page turns, allowing you to setup a Bluetooth device to page forward and back.
The foot pedal shown in the video is called the PageFlip Firefly, but there are a number of options.
Check the video description at YouTube for the list of topics covered in the video, with links to their start times.
Onyx Boox Max 2: 10 Tips for Musicians