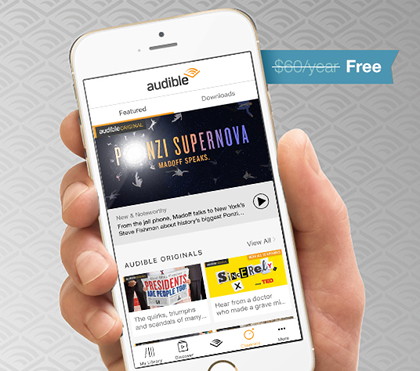 If you're an Amazon Prime member you can get unlimited access to a selection of free audiobooks each month in addition to Prime eligible Kindle ebooks.
Unfortunately Amazon doesn't make it particularly clear where to find the list of audiobooks available free to borrow for Prime members. In most cases you need to download the ebook before you can get the audiobook; you can't just see a separate list of available audiobooks and download them individually.
Here's the list of Books with Audible Narration free for Prime members.
Again, technically you have to borrow the ebook before you can borrow the audiobook; if you just go to the audiobook page directly you won't see an option to borrow it.
Prime eligible ebooks show a Prime logo in the buy box that says, "Included with your membership".
Books that also have a matching Prime eligible audiobook will show a box that says, "Read and Listen for Free". If the audiobook isn't part of Prime it will just say, "Read for Free".
After you select a Prime eligible book that has a matching audiobook available with Prime, you don't have to select the audiobook version of the book too because it will automatically be available once you borrow the ebook.
If you have a Fire tablet you can easily find Prime audiobook content from the menu of the Audible section where it lists Prime Benefits.
Audible Channels are another way to get free audio content with Prime. Audible Channels include original short-form audio content (podcasts), along with playlists, and a selection of audiobooks to stream anytime.